February 10, 2022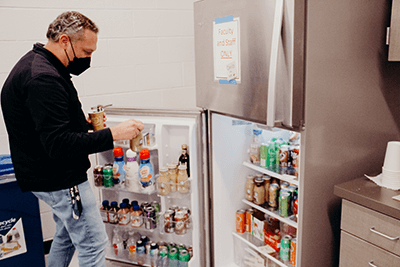 Thank You!
A huge thank you to everyone who participated in and donated to Faculty and Staff Appreciation Week! This is always a fun week for all staff as they stop in the Peacock Teaching Kitchen to satisfy their cravings. Offerings included healthy choices, salty snacks, dark chocolate, and that infamous Twinkie! Tara and Shari included a Good Riddance box, celebrating Harry Styles' 30th birthday (with Twinkies and Hohos), and regional results of Groundhog's Day. Thank you again from Tara Lafferty, Shari Jacobus and the MPA Parents Association.
Lower School Valentine's Day
This year in lieu of a party, the PA Valentine's Day committee will be handing out gift bags. We're sad to miss our beloved tradition but have to keep our kiddos safe!
February Walks
February 11, 18 and 25, 8 AM
Join Michelle Mick Fridays starting February 11 for a little brisk walk around the MPA grounds. Look for Michelle and her black Suburban with the MPA sticker on the rear window, in the lower school parking lot, just after drop-off at 7:55-8 AM.
SnoDaze All-School Nature Walk
Dodge Nature Center, Feb. 22, 3:45-5:45 PM
Let's kick off the week of SnoDaze, and celebrate the joy of winter in Minnesota! Bundle up the family and meet at Dodge Nature Center dodgenaturecenter.org after school on February 22. Their naturalist will take MPA Families on a winter exploration of the grounds. We'll end with time to gather around the bonfire to chat, and kick-sled across the frozen ponds. This is an all-school event, so if your students are busy with other activities, parents are welcome to come and enjoy winter's splendor without kids in tow. RSVP to Staci Banks, sbhehe42@icloud.com
Middle School Café Reimagined — Together We Tube
Badlands Snow Park, Friday, February 25, 2:30-5:30 PM
Join us for an afternoon of family fun for Middle Schoolers. It will be a totally tubular experience including a dinner option offered by the Vikings Table food truck. We've also organized a food drive in partnership with the Minnesota Vikings Foundation. Middle School students are asked to bring in a non-perishable food item(s) during their advisory the week of Monday, February 7 – Friday, February 11. The advisory that collects the most will be announced at the Badlands on the 25th! To learn more about the Vikings Table mission and community work click here.
We're looking for adult volunteers the afternoon of the event. You can sign up here.
Keep the Spring Break Vibes Alive
Yogafresh, March 25, 1:15-2:15 PM
Save the date for some self-care and community connection! In March, Yogafresh will offer a tailored class experience for MPA parents that weaves gentle movement, breathing and meditation into the practice with some additional tools and resources to tap into when things feel stressful. Look for more details as we get closer to March, as things are COVID-situation dependent.