February 17, 2022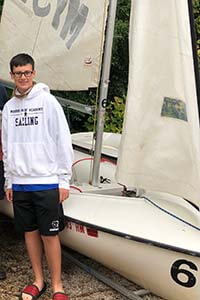 How many years have you been a student at MPA?
This is my third year.
What do you love about MPA?
I love the opportunities MPA gives me and the amazing community.
How are you encouraged to dream big and do right at MPA?
I'm encouraged everyday by being given opportunities to try new things, get out of my comfort zone, and even challenge myself. My teachers and peers have guided me into things I now love to do.
Why do you believe your teachers teach the way they do?
I believe in my teachers teaching the way they do because it works. I have found myself engaged in all my classes and learning quickly. Sometimes I have even gone to do more work on my own because of things they have taught that have interested me.
If you have attended another school, how has your experience here been different?
My experience at MPA has been the best thing for me. It has given me a community where I can feel safe and be myself. At my old school, teachers would just teach and go through lessons. At MPA, I have been able to connect with everyone and try new things. I'm able to reach out at any time and ask a question or share something and feel heard. Having small classes is nice because everyone can be a part of the class instead of sitting in a room of 30+ people and being overlooked.
What would you tell another student your age considering MPA?
I would tell another student my age considering MPA that MPA opens up many opportunities for everyone, and they would love being apart of the community.
In what ways has MPA prepared you for life beyond school?
MPA has made me a more confident person. I feel like I can now communicate with anyone. They have also prepared me to be able to solve problems at more than using a fixed solution. For being a freshman, they have already prepared me with various study skills and I have learned good work and study habits. They have given me tools I can use to try new things and use to be successful. MPA has given me opportunities that I will continue with down the road in life.
What's your big dream?
My big dream is to travel the world and experience as much as I can that life has to offer.
Is there anything else you'd like to share about your MPA experience?
MPA has given me the support to find activities in which I love. I would've never started to sail, woodturn/woodwork, or be on a robotics team and design and build a robot. All of those things have started with my experiences at MPA.