March 31, 2022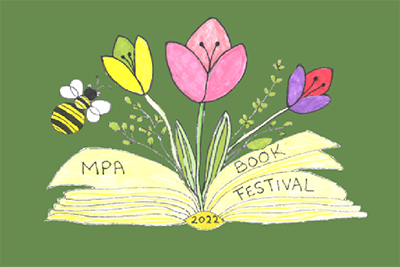 Book Festival
Tuesday, April 5-Sunday, April 17
MPA's beloved annual Book Festival is almost here! We'll have many fun book-centered activities, including stories to help unwind in the evening, and our padlet board for sharing your favorite read. Click here to add to the padlet board. The Book Festival's goal is to promote the joy of reading and connect with the MPA community through our shared enjoyment of reading. This year we have a hybrid model with some on-campus events and online book purchasing from our booksellers, Usborne and Valley Bookseller, more details coming soon.
Used Book Sale
The Book Festival Committee is asking for donations of gently used books and music that will be available for sale (25 cents for paperbacks, $1 for hardcovers) during the Book Festival. Look for donation carts at the North and South entrances from March 24-April 15. We welcome books for all ages!
Proceeds from the used book sale and purchases made through the booksellers benefit the MPA library so every purchase you make will help support our wonderful library, a great resource for both students and families. 
MPAPA One Book, One Community: Book Club with Dr. Hudson April 14, at 6:30 PM
Please join us for a lively discussion of Station Eleven by Emily St John Mandel! The PA will be purchasing books for those who would like to take part. Let us know if you plan on attending the book club, and whether or not you would like a copy of the book provided to you. Please fill in this google form to order the book and sign up for the book club.