April 7, 2022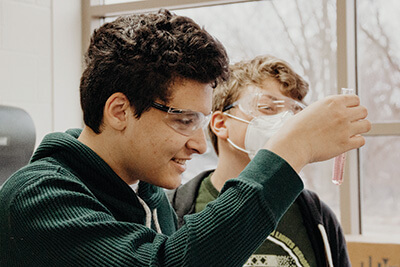 As a top ranked college prep school, MPA has the responsibility to prepare students for college, and more importantly, for life. At every grade level, MPA finds a developmentally appropriate way to incorporate rigor–not just for the sake of a rigorous education, but to challenge students to push their limits, discover what they are truly capable of.
Being experts in their field, MPA teachers are tremendously passionate and dedicated to getting students to not only answer the "what," but the "why." They inventively design learning opportunities with real-world applications for our students. They equip their students to use their knowledge to make the world a better place.
This is rigor with purpose.
What does rigor with purpose look like?
MPA's highly rigorous education does not challenge top students by piling on busywork, nor does it take away support and individual attention from a teacher. It's about diving deeper.
It looks like PreK, our youngest students, digging into a dinosaur fossil lesson in the Makerspace to explore how the biology and science of the world of the past influences the one of the future.
It looks like Middle School students blossoming into freethinkers, discovering the independent freedom of being resourceful, organized, and adaptable as the guided lessons of early childhood give way to multistep research projects and open-ended discussions in their classrooms.
It looks like Upper School physics students venturing out into our community to address problems, and then reactively designing, engineering, and manufacturing 3D-printed tangible solutions to improve them and our overall physical campus.
"Having to design a functional item for an adult in the building make the students accountable in a way that's different from a typical classroom assignment," said Mark Shapiro, the MPA Upper School physics teacher who assigns this particular task. "The students gain a great sense of satisfaction from taking the project from idea to reality, and seeing it meet its expectations when it came to fruition. This exemplifies engineering at Mounds Park Academy and in the real world."
Many forms of academic rigor can be observed by strolling through our campus, and witnessing the magic of the entire PreK-12 journey that lies ahead. But the proof of purpose that comes with academic rigor at MPA is apparent through students' genuine excitement for solving the challenges presented in their course work and in their spirited participation in the classroom.
Why does rigor with purpose matter?
Rigor with purpose at MPA cultivates lifelong learners who forever dream big and do right.
In Lower School, rigor is more than building skills for school—it's learning skills for life. "Rigor, perhaps especially for young students, must have purpose. Each curriculum is designed to spiral and build on prior knowledge, and to help students make connections to experiences in other aspects of their lives," says DeeDee Stacy, MPA fourth grade teacher. "This establishes purpose and order in a young person's approach to tackling tough content. Challenging material and high expectations lay the foundation for lifelong academic skills coupled with confidence that joy is found in embracing rigor and its rewards. And the rewards are many, often reflected in the smiles and eager anticipation as children engage with content each and every day."
Through the lens of curiosity and with an emphasis on integrating fun, these young students are working in small groups, listening to one another, compromising, and sharing. Individually, students build the critical skill of confidence, by seizing opportunities to practice public speaking through classroom presentations, projects, and reports.
When Stacy's fourth grade students were asked to share what they appreciate about MPA, most used the word "love" in their replies: "I love that the teachers never give up on us," "I love that it is hard. I know that's weird," and, "I love that every day I get to learn something new."
"And so our purpose in rigor is just this: instill love of a difficult task, and dive in with the confidence that learning will happen," she says.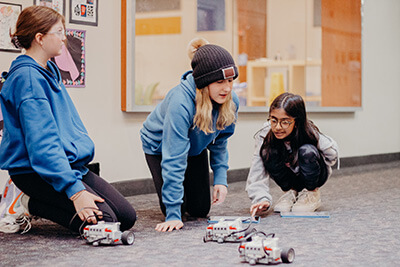 Starting from a young age, students engage with their peers on important world topics. When students move up to Middle School, they acquire responsibilities regarding respectful conversation and classroom dialogue as academic rigor is increased. Here, academic rigor means providing spaces to connect what they are learning with relevant issues, while developing complex cultural competencies and advocating for themselves and others. In humanities classes, topics grow more challenging, and differing opinions begin to surface. In math and science classes, multiple solutions emerge, the "right" answer branches into a few, and with further discussion, several more can appear. With this new, thought-provoking development, Middle School students recognize that academic rigor means they are encouraged to embrace difference, participate in debate, and engage in civil dialogue with peers and teachers. Right before our eyes, they are building a community with all of the key skills they will need throughout their educational journey to face additional academic challenge.
Academic rigor peaks in Upper School at MPA, intentionally woven into Upper School students' education every day. Across all divisions, but perhaps no more than in the Upper School, MPA teachers ask for the why and the how behind everything. "Why do protons behave in that way?" "How can we connect our primary sources to current events?" "How did you arrive at that conclusion in your proof?" "Why is the subjunctive tense used here?"
Teachers also ask more of their students, and synchronously, students expect more from their peers. This beautiful balance results in classes that are engaging, hands on, and challenging. Rigor means that students are not told how to solve problems, but rather given the chance to explore and discover applicable solutions–because at MPA, rigor equates to participation and involvement. It means that students are not sitting in the back, bored, disengaged and distracted, but instead are challenged, attentive, actively participating, and eager to be diving deep into complex concepts.
As a result, students graduate prepared life.
"MPA has helped build the integrity, character, and knowledge that make me prepared for the future," recalls Isak Dai, a graduate from the MPA Class of 2021. "From day one, I've been taught that the 'why' is just as important as the 'what.' That's powered my curiosity and driven me to delve deep into areas I care about."