April 7, 2022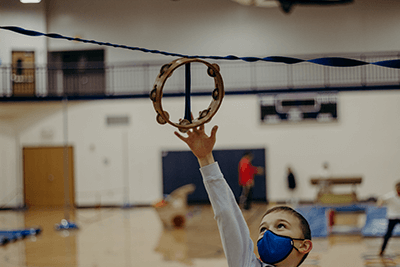 from Dr. Bill Hudson, Head of School
"I need to start living again," I said to myself last week after exchanging a series of texts with a good friend that I have seen only once in the previous two years. I immediately texted her again, and we made plans to meet for breakfast over the weekend. Perhaps you've had a similar experience. The last two years of the pandemic have been difficult for a number of reasons, including the lack of opportunities to socialize with and expand our circle of friends. I noticed this at school also. My heart was bursting at the seams during our Lower School Art and Music Show last week, and I realized how much I missed the casual, joyful interaction with parents.
In just a few weeks, on Friday, April 22, we have an opportunity to burst out of our pandemic cocoons for an evening of fun, strengthen friendships, make new friends, and celebrate our school community. While the MPA Spring Auction, "Let's Dream," is the only fundraising event of the school year, it is so much more. Whether you are a new or returning family, you will enjoy the laid-back atmosphere held this year in a stunning setting. A'Bulae is a truly unique venue set atop a building in Lowertown St. Paul with sweeping vistas and a rooftop terrace.
"Let's Dream" is a wonderful celebration that raises over $200,000, directly benefiting our teachers and students. It is a chance for parents, alumni, grandparents, parents of alumni, and employees to celebrate all we've accomplished. Our volunteer planning committee, Karen Chan, Rebekah Cook, Sarah Cotter, Lucia Gray, Amy Kotch, Tara Lafferty, Jennifer Macdonald, Amy Minear, Renee Roach, Mindy Ruane, Kelley Still, Leslie Todero, and Lisa Vale, have been hard at work planning a wonderful evening. Hundreds of community members and area businesses have joined together to create our fantastic 170+ item silent auction. There are also a limited number of golden tickets that are still available that provide the opportunity to pick any one of the fabulous live auction items.
As is our tradition, our volunteer community has selected an exceptional opportunity to support our community. The MPA BOLD Innovation Fund is this year's fund-a-need (an immediate solution to a real and specific need). The MPA BOLD Innovation Fund provides funding for programmatic initiatives that enrich the culture and learning at MPA for students and faculty. Funded programs embody the BOLD approach: Building Opportunities for Learning Distinction. During the 2022-2023 summer and school year, teachers can access BOLD Innovation Fund dollars as seed funding to spur collaboration, interdisciplinary approaches, and innovative curricular or programmatic initiatives. The purpose of the fund is to encourage curriculum development and experimentation. The funds will support students to grow and thrive throughout their time at MPA and be used across all three divisions.
"Let's Dream" and join together to support the future of MPA students by making a gift today. Please help us to dream big as we reimagine personalized pathways of learning for students through curricular innovation and leveraging advances in educational technology. I sincerely hope you will consider joining me at the auction and "start living again."