April 14, 2022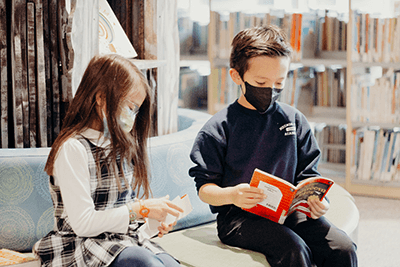 from Dr. Bill Hudson, Head of School
I delight in the number of students who come into school in the morning with a book in their hand and a finger holding their place. Clearly, they love reading as much as I do. Reflecting on the great books I've read, from Dr. Seuss to Chaucer, I see how reading has changed my life. Through reading, I have plumbed the depths of despair and witnessed the triumph of the human spirit. I've lived through momentous battles and traveled the world. Reading has transformed me and made me into the person I am today. While my parents actively encouraged reading, it was in lower school that I learned to love reading, and it was my teachers who introduced me to great books.
The 22nd Annual MPA Book Festival (April 5-17) is a true reflection of our mission as we choose to celebrate reading in such a joyful way. By coming together to celebrate reading, we send a powerful message to our children about its importance. I am very grateful to the MPA Parent Association for sponsoring such a fantastic event. Funds raised from book purchases support the MPA library and directly impact students.
Anthony Doerr is one of my favorite authors, and I devoured his latest novel, Cloud Cuckoo Land, over winter break. According to Marcel Theroux in a New York Times book review, "It's a humane and uplifting book for adults that's infused with the magic of childhood reading experiences. "Cloud Cuckoo Land" is ultimately a celebration of books, the power, and possibilities of reading." I couldn't agree more. Books open up worlds of possibilities and give rise to the imagination. Reading books aloud to children stimulates their imagination and expands their understanding of the world. It helps them develop language and listening skills and prepares them to understand the written word. I firmly believe that the single most important quality in an ethical person is the ability to envision the world from another perspective, and there is no better way to do that than reading.
The importance of reading cannot be understated. A study published in 2007 by the National Endowment for the Arts found that reading leads to high academic and economic success and awakens social and civic sense. Readers are more likely to visit museums, attend concerts and shows, and participate in exercise and sports. Readers also are more likely to volunteer and do charitable work.
We are very fortunate to have a dedicated and active Parents Association. Their volunteers will contribute hundreds of hours over the two weeks of the Book Festival—their commitment to supporting MPA is inspiring.
What I'm Reading
Some of you know I am obsessed with Station Eleven—first the book by Emily St. John Mandel and then the limited series on HBO Max. In fact, I am leading a book study tonight from 6:30-7:45 PM in the Martin Lenz Harrison Library, an event sponsored by our outstanding Parents Association. If you are familiar with either the book or the series (or Star Trek), you know the phrase, "Because survival is insufficient." It is the motto of the Traveling Symphony, a troupe of actors and musicians who wander the post-apocalyptic landscape of the Great Lakes region of the former United States, performing Shakespeare for the survivors of a global pandemic. While you might think it odd to be obsessed with a book and TV series about a pandemic during a pandemic, both speak to what matters most to us all—relationships. It's a story about a book (graphic novel) that inspires and connects people. Please join me!