April 21, 2022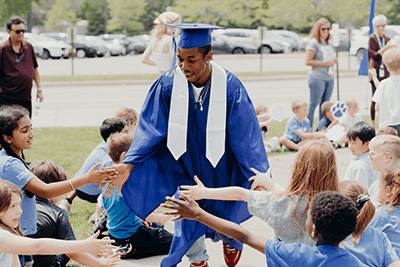 from Natalie Waters Seum, director of admission and communication
One Thursday per month you will see a guest Head's Message from a member of the Institutional Advancement Team. We hope these additional perspectives will help you catch a glimpse inside the inner-workings of your school.
In honor of the conclusion of MPA's treasured Book Festival, I want to share with you a book I've been listening to on my commute. I believe this book should be required reading for everyone in the business of people: "The Power of Moments: Why Certain Experiences Have Extraordinary Impact," by Chip Heath and Dan Heath, the bestselling authors of "Switch" and "Made to Stick." Like all great books, it was recommended to me by a trusted friend and colleague as one that directly applies to our work in admission and communication.
The premise is that moments matter—our lives are defined by moments—and through intentionality, some moments can matter much more than others. The opportunity lies in our ability to engineer moments that will have a lasting impact on those we serve. They describe in detail the four elements impactful moments often contain and how to build in these elements:
Elevation: This involves "turning up the volume" on reality, raising the stakes by adding an element of "productive pressure," and/or "breaking the script" or challenging expectations. Think Senior Walk, Vocabulary Bee, or even Senior Prank Day.
Insight: This involves learning something about oneself or others, to "rewire our understanding." Think Senior Performances, Senior Dinner, or CHAMP Assemblies.
Pride: This involves celebrating "milestone moments" on our way to a larger goal and/or publicly recognizing achievements. Think College Choice Day, Moving Up Ceremony, or Volunteer Breakfast.
Connection: This involves "sharing the moment with others" because, research shows, when we do this the moments are strengthened. Think Spring Auction, Commencement, or Lower School Monday Morning Meetings.
A few weeks ago, the six members of the admission and communication team were together at one of our weekly "Joy (Half) Hours" sharing with one another what had brought us joy that week. Thanks to one staffer's very bright idea, we went from talking about joy to planning a party. A Panther Party, to be specific. Instead of hand delivering gift boxes to all of our newly enrolled families, an idea born during COVID-times to help build connection from a safe distance, we could hold a Panther Party on campus with all the pomp and circumstance we could muster.
As a department that is never short on ideas but chronically short on time, I was skeptical at first. How could we pull it all together, on top of everything else? Who would be willing to volunteer at the end of a long week in May? Would any of our new families come? But it was an opportunity to create a more impactful moment that was too good to resist.
Fast forward to today and we're almost ready for the Panther Party, which will be held May 6, 4-5:30 PM. With the Parents Association enthusiastically stepping up to partner with us, we are well on our way to creating some very powerful moments for our 101 new students and their families—moments that will matter. If you want to join in, please reach out to me at nwatersseum@moundsparkacademy.org. Just as they always do, our students, staff, and faculty have enthusiastically volunteered their time to welcome new families at this event. And yes, our new families are coming—the vast majority of them!
Between now and the end of the school year there will be countless more MPA moments that matter for every member of this community. From big moments like the Spring Auction, Senior Walk, and Commencement, to more simple moments like signing a yearbook, giving a farewell hug, and winning a match. Let's create these moments. Let's linger, together, in these moments. Let's not allow these moments to pass us by. Because these are the moments that create joy. And because, as Gavin Thorson said in his Senior Performance this morning, "These, right now, are the good old days."