May 5, 2022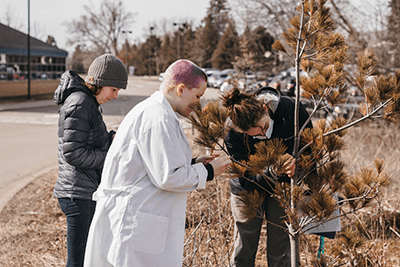 from Dr. Bill Hudson, Head of School
For me, one of the best parts of spring is seeing the land come to life with plants poking out of the ground and flowers beginning to bloom. A stroll through our Lower School garden this morning filled me with anticipation as I imagined the awe and joy our younger students will soon experience as the garden comes to life. With a vision and a great deal of hard work, Michelle Mick, parent of Isaac '29 and Freya '33, together with a small but committed group of volunteers transformed an unused plot of grass into a magical garden of flowers, vegetables, and herbs. Students across all grade levels care for the garden and in the fall, harvest the vegetables for Chef Chris to use at lunch.
Planting a garden is an expression of hope. It requires patience, knowing it will take years to grow, mature, and bear fruit. In an era of on-demand, instant gratification, gardens requires vision and commitment. In much the same way, ensuring the long-term viability and sustainability of our family, loved one, and causes important to us require decisions today that will pay dividends later.
MPA would not exist without the vision of the founding families and generosity of time and resources of so many through the years who have built our beautiful campus and school community. This year we are celebrating 40 years of MPA, and I am particularly grateful for those families who have supported the school financially through philanthropic giving. I humbly ask you to consider making an estate or planned gift to the school. Like the Lower School garden, your investment now will pay dividends for years to come.

The success of many independent schools, colleges and universities, and nonprofits rely upon estate or planned gifts to build their endowment. These types of gifts might include making MPA the beneficiary of a life insurance policy or retirement plan, creating a charitable gift annuity, or most simply, by making a bequest through your will. There are many ways you can designate a future gift through your estate planning. Contact the Development office to learn more about what options might work best for you.
Through the years, we have learned that many families have already designated a future gift to MPA through their estate planning. We encourage you to let us know about your planned gift to ensure we can carry out your intentions and to plan for future years at the school. This year we're asking our community to help us reach 40 for 40: forty planned gifts at the end of our 40th year.
A legacy gift can be any size and will have a lasting impact on MPA students for generations to come. A Legacy Society honors families and individuals who have made provisions for MPA in their estate plans. Thank you to our volunteer leaders who helped to spearhead the Legacy Society and planned giving at MPA: Melissa Peacock, Isaac Marshall, Clarence Knox, and Jennifer Holloway.
For many of us, the pandemic has brought so much in focus, including the importance of planning for the future and the unknown. Planned gifts to MPA lay the foundation for a long-lasting future for us and those who will come after us. Like the seeds that were planted in our garden, your gift holds future promise. As our Lower School Garden comes to life, I invite you to take a stroll and enjoy its awakening beauty.