May 12, 2022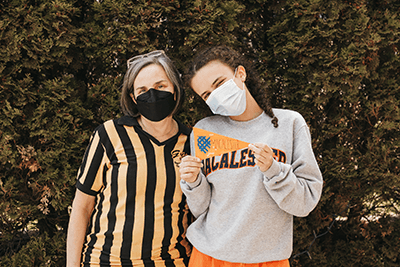 from Dr. Bill Hudson, Head of School
I don't think I ever fully realized the value of college counseling until I came to MPA. I was the first in my family and extended family to go to college. We didn't have a college counseling office or program when I was in high school, and for the most part, we were left on our own. Although I had a wonderful undergraduate experience, the only reason I initially applied was that there was no application fee or essay required. My worldview was pretty narrow, and my college search did not extend beyond the borders of Michigan. Even the two high schools I worked in did not have such a thoughtful, comprehensive, and personalized college counseling process as we are fortunate to have at MPA.
May is one of my favorite times at MPA because of the many joyful celebrations and events. One in particular, College Choice Day, was celebrated last Wednesday and is on my top 10 list. Sporting their chosen college apparel, seniors gather in and around the College Counseling Office to create their college pennants and feast on cake and punch. The pennants and senior pictures hang in both Upper and Lower Schools. It is enjoyable to see our younger students look for their Upper School buddies and try to find the locations of all of the different colleges and universities on the map.
Fifty-one seniors will be attending 38 different colleges and universities in 19 states and Washington, D.C. They have chosen large research universities, public and private institutions, small liberal arts colleges, Ivies, art schools, and women's colleges. Students will be attending schools in urban and rural locations that are across town, in-state, and across the country. One student is taking a gap year, and another plans to attend a trade school.
Our college-prep, rigor with purpose, whole-child approach can be seen in the variety the fields of study our students intend to pursue. They include aerospace engineering, marine biology, neuroscience and psychology, environmental science, anthropology, engineering, business, computer science, international relations, film arts and human rights, chemistry, architecture, illustration and comic art, feminist and gender studies, biochemistry and pre-med, to name a few. Ten are admitted as engineering majors, and another ten anticipate STEM majors.
Mounds Park Academy's college counseling process is driven by careful consideration of each student's unique set of interests, priorities, and aspirations, balanced with an understanding the current college admission landscape. Recognizing the time commitment, this requires, MPA leads students through a comprehensive, carefully designed curriculum that is introduced in ninth-grade seminar and continues through junior and senior seminar classes.
Students move through developmentally appropriate steps each year of Upper School. MPA's seminar program provides them with time for guided self-reflection, personality assessment, and career exploration, as well as instruction and practice in practical tasks such as testing, interviewing, college essay writing, and resume creation. Along the way, individual meetings for students and parents focus on creating and editing the student's college list, addressing family-specific questions and concerns, and supporting applications for scholarship opportunities. We are incredibly fortunate to have Director of College Counseling, Lisa Pederson, and alumni Wade Peterson to guide students and are supported by faculty and staff that go out of their way to assist students.
A wise and seasoned college counselor, Frank Sachs was fond of saying that "selecting the right college is a match to be made, not a prize to be won." I have a good friend who is a college counselor at an independent school in Detroit, Michigan. Several years back, on a visit "home," I shared my excitement at the number and range of colleges and universities MPA students had selected. I barely finished when she interjected to say how much she would love to be a college counselor at MPA, work with students who knew themselves so well, and open to many different colleges and universities across the United States. Most of her students, she said, limited themselves to the University of Michigan and Ivy League schools in the east. I took her words as a compliment, to both our exceptional college counseling program and our students and their families.
I am proud of our senior class. It is clear from their college choices and fields of study that embody what it means to dream big and do right. Congratulations, MPA Class of 2022!