May 12, 2022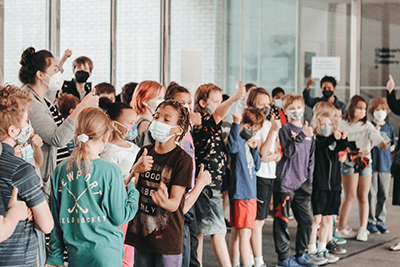 Microfunding in Action
Recently through a microfunding grant, the PA funded the student-run newspaper, MPA Freethinker, to use the School Newspapers Online, SNO platform which supports and promotes student journalism. PA micorfunding also enabled the third and fourth graders to see eleventh grader Jack Peterson in Diary of a Wimpy Kid at the Children's Theater. Microfunding provides funds for projects and programs, existing or new. It's open to student organizations, teachers and parent volunteers.
Gardening at MPA is Back!
Thursdays at 8 AM and Saturday, May 14 from 9-11 AM
Calling all those who want to spend some time outside, at MPA, in the gardens! You're invited to spend time in the gardens tidying up, building, sowing, and spuddling around in the dirt. Come for a few minutes or stay for an hour or two. All are most welcome. We'll meet outside under the flagpole at the Lower School entrance, with gardening tools in hand!
In preparation for graduation, a spruce up of the Library gardens is underway. A special Saturday morning get-together is happening this Saturday so the garden will look its best for a very significant milestone in our students' lives. Join us with trowel, gloves or whatever you have for the garden, this Saturday from 9-11 AM, in the Library gardens.
Vote for Next Year's PA Board
We are also seeking volunteers for the 2022-23 school year. Please consider getting involved. It's a great way to meet the school community, show our appreciation to faculty and staff, enrich our children's school experience, all while making new friends and seeing old ones. A willingness to help is the only experience needed. New families are especially encouraged as it's a great way to get to know your fellow parents. If you are interested in getting involved or have any questions, please contact Staci Banks Herberger (
sbhehe42@icloud.com
).
Ballot
Co-Presidents: Christine Larson and Staci Banks
President Elect: Michael Soto
Secretary: Seema Anwar
Treasurer: Adi Boeder Risner
LS Division Lead: Michelle Mick
MS Division Lead: Michelle Mick
US Division Lead: Julie Bixby
Communications: Susan Knapp
Community Development Lead: Open