May 19, 2022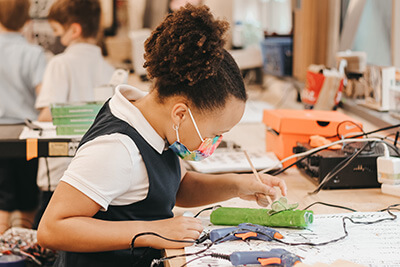 by Renee Wright, Lower School Director
Planting A Seed
Sunday, May 1 was College Decision Day and fifty one seniors at MPA and across the nation announced their college decision. MPA seniors will be going off to thirty-eightdifferent colleges and universities next fall. In celebration of this special day Lisa Pederson, college counselor, along with many MPA seniors attended the Lower School Monday Morning Meeting this week to share where they will be going to college next year. Lower School students listened intently and were in awe of the college choices and reasons why these seniors selected their college. I predict they were thinking of the day they will make their college choice and go off to college.
When you enter through the south door, you will notice the College Choice bulletin board by the kindergarten rooms. You will see pictures of the Class of 2022 and personalized pennants announcing the college they will be attending in the fall. A careful look at the board will reveal that our MPA seniors have chosen colleges from 19 different states and Washington D.C. We are truly proud of our seniors!
Lower School Summer Reading Program
Reading is an essential skill for students and helps children find joy in books, which leads to lifelong reading. Keeping students reading over the summer helps students retain their reading skills, builds comprehension, keeps children curious, and builds knowledge. Nance Lage and I have collaborated on a summer reading program, Growing Summer Readers, for Lower School students and their families. Each Lower School student will receive the gift of a special book the week of May 31. Book festival proceeds were used to purchase books for this program. Along with the book students will receive a reading calendar and fun activities to do with the book and promote summer reading. It is our hope that families will read together over the summer and bond over books and reading. You can look forward to receiving the book and more information in the next few weeks!
CHAMP Celebration
On Wednesday, May 25 Lower School students will gather outdoors weather permitting, for an end of the year CHAMP celebration at 8:30am. (Our rain date for this event will be Thursday, May 26.) We have so much to celebrate after a year of dedicate work to review our eleven CHAMP character traits and learn how to be accountable for our words and actions. Students should wear their CHAMP shirt and come prepared to sing, play, and enjoy a popsicle treat. We are grateful for the exceptional effort Lower School students put into being CHAMPS!
Lower School Track And Field Day
Lower School Track and Field Day will be held on Tuesday, March 31 from 1:00 – 1:45. (The rain date for this event is Thursday, June 2). Parents are welcome to join us for this fun event and physical education grand finale. All Lower School students should wear their CHAMP shirts for this event to help us identify grade level groups out on the field. Students will rotate through seven different stations and the event will end with each grade level participating in a Tug of War.
The weather is somewhat unpredictable but we hope for a sunny day. Remember to send sunscreen and water bottles labeled with your child's name for this event. We are also seeking parent volunteers for this event so look for an email about signing up to help.
Dates To Remember
May 26: Grade 1 (O'Keefe) Drama Production, 2:30 PM
May 27: Grade 1 (Steingraeber) Drama Production, 8:30 AM
May 31: Track and Field Day, 1-2:45 PM (Rain date 6/2)
June 1: Grade 4 (Wilson) Drama Production, 8:30 AM
June 3: Grade 4 (Kimmerle/Stacy) Drama Production, 8:30 AM
June 4: MPA Commencement, 6 PM
June 6: Vocabulary Bee (Grades 3 and 4),8:30 AM
June 7: Grade 3 Drama Production, 8:30 AM (Colianni) and 9 AM (Stinson)
June 7: Moving Up Ceremony, 2 PM
June 8: Last Day: Yearbook assembly, 8:30 AM and Early dismissal, 10:30 AM
June 20: Report Cards will be sent out