May 26, 2022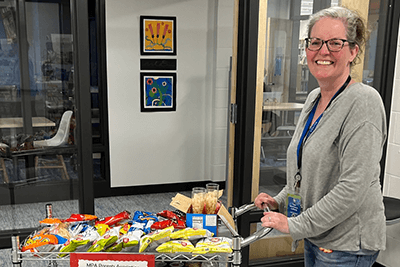 We Love our Faculty and Staff!
On Friday, May 20 all Staff at MPA were treated to a Pop-Up Staff Appreciation event. This event also coincided with the release of Harry Styles' new album, so it also doubled as an album release party. At MPA , we appreciate our great staff and great music.
Eighth Grade Moving-Up Ceremony
Tuesday, June 7 from 1:30-3 PM
Our Middle School days are coming to an end very soon! To celebrate our wonderful rising ninth graders please plan on attending the moving-up ceremony on Tuesday, June 7 from 1:30-3 PM.
We will honor each student during this commemorative event and ask for your help to make sure everyone is included. Each student will have their own slide during the presentation to celebrate just them!
Please send three (3) pictures of your eighth grader:
From when they were young
One that captures their personality
One with middle school buddies
You can provide your THREE (3) pictures two ways:
Upload to the PARENTS ASSOCIATION GROUP (Class of 2026) Schoology Group: Album – Eighth Grade Moving Up Photos. Albums are found on the left-hand navigation when you are in the Class of 2026 Parent Association Group.
Or if it's easier you can email the photos to Christine Larson, Grade Rep at chrisandmatt@hotmail.com
Your photos are due today. If your eighth grader has a fluid identity, may not want pictures of their youth, or any other worry about photos, they can submit any photos they'd like. We just want everyone to be represented and happy!
If you have any questions or concerns about the ceremony, presentation or photos please connect with Dr. Milam.
Open Garden with Michelle Mick
Saturday, May 28 from 9-11 AM and 3-5 PM
565 Arlington Avenue West, St Paul, MN 55117
For anyone who would like to wander through a rather wild unruly but fun garden in St Paul, our gardening guru, Michelle Mick has graciously offered a tour of her gardens this Saturday, May 28. All are welcome from 9-11 AM and 3-5 PM to come on over and wander through her gardens. The irises are starting to bloom, as well as many other lovely plants; many natives share their beautiful colors. For those interested, there are three rain gardens out back, boulevard gardens, and solar on the roof too! If there are seeds around, you are most welcome to have some too!
The address is 565 Arlington Avenue West, St Paul, MN 55117. You can't miss it, there is a free-stacked stone wall, very English looking! michelle_wessely@yahoo.com
Gardening at MPA
Thursdays at 8 AM
Calling all those who want to spend some time outside, at MPA, in the gardens! You're invited to spend time in the gardens tidying up, building, sowing, and spuddling around in the dirt. Come for a few minutes or stay for an hour or two. All are most welcome. We'll meet outside under the flagpole at the Lower School entrance, with gardening tools in hand!
End of Year Grade Events
Pre-K:  Saturday, May 28, 2-3:30 PM, MPA playground. Renee Roach, reneetroach@gmail.com
Kindergarten: Wednesday, June 8 at 11 AM Powers Lake Pavilion, Woodbury
Grade 1: Party has already taken place!
Grade 2: June 6, 3:30-5:30 PM, West Park Pavilion and Playground, White Bear Lake nelsonhe5@yahoo.com, latodero@gmail.com
Grade 3: June 8, 11 AM-2 PM, SkyZone in Oakdale, Jumping and lunch! nelsonhe5@yahoo.com
Grade 4: June 11, 9:30 AM-12 PM, 10145 Bush Lake Rd., Bloomington, MN 55438. heatherthurmes@gmail.com
Grade 5: June 30, 2-4 PM, West Park in White Bear Lake adenight@siscovers.com
Grade 6: June 8, 5-7 PM,  Lake Elmo Park Reserve, North Pavilion, Lake Elmo darcyjerome@comcast.net
Grade 7: June 8 at 11:30 AM, Wakefield Park Shelter #2, Maplewood, MN
Grade 8: June 8, 11 AM-1 PM, Lake Elmo Park Reserve, North Pavilion, Lake Elmo, chrisandmatt1289@gmail.com
Grade 9: June 8, 11 AM-2 PM, Ojibway Park, Ojibway Dr, Woodbury, MN 55125 juliebixby1@gmail.com
Grade 10:  June 8, 2-4 PM, Lake Elmo Park Reserve, North Pavilion, Lake Elmo sbhehe42@icloud.com
Grade 11: June 8, 4-8 PM, Ojibway Park, Ojibway Dr, Woodbury, MN 55125
Grade 12: TBD, Valleyfair Event canceled due to COVID.
Vote for Next Year's PA Board
The Parents Association (PA) is an organization formed by and for the MPA parents. Every family is automatically a member and eligible to vote. This is your last week to vote for the PA Board. Look for results in the June 2 Panther Post. Please vote for the Executive PA Board for 2022-23 here!
The board position of Community Development Lead is open. This person helps coordinate the Grade Rep Program, organizes a few community events during the year, and attends monthly board meetings. We would love to have a full voting board for the 2022-23 school year.
We are looking for a Grade Rep for the current fourth/rising fifth grade, as well as some co-grade reps at a couple of grade levels.
The PA will be forming Lower School, Middle School, and Upper School committees next school year to help plan our traditional division-specific events.
Please consider getting involved! It is a great way to meet the school community, show our appreciation to faculty and staff, enrich our children's school experience, all while making new friends and seeing old ones. A willingness to help is the only experience needed. New families are especially encouraged as it's a great way to get to know your fellow parents. If you are interested in any of these opportunities or have questions, please contact Staci Banks-Hehenberger (sbhehe42@icloud.com).