June 2, 2022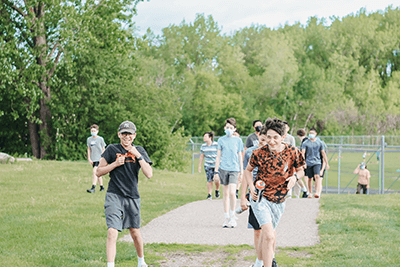 from Dr. Jenn Milam, Middle School Director
3.3 DAYS TO GO!
This issue of Middle School News & Notes is a "need-to-know" look at the last few days of school! Grab your planners, family calendars, and get to looking forward to summer!
GRADE 6 RETURNS TOMORROW!
Reports from Eagle Bluff are that all is well and the kids are having a great time! Your big kids will likely have showered less than you'd hoped, and they'll return with plenty of clean clothes to your dismay (it always amazes parents that the stack of undies and socks that you sent, are still clean as a whistle–LOL)! They'll also be positively exhausted, have a hundred stories to tell that will trickle out over the weekend. They'll have tales of friendships, fusses, and newfound confidence in themselves, their peers, and the world around them. While it's true that this class has been unable to share in many experiences over the last two years, I have no doubt that this adventure for them has been a good one – no phones, new experiences, and a taste of independence!
We'll see you at the end of the day tomorrow. While I know some of you may have to work (and that's OK!), if you can be here at the end of the day (2:45-3 PM) to pick them up, that would be best. They'll be tired, in need of a bath, a big dinner, and some rest in their own comfy bed. You're welcome to come hang in the Middle School hallways to await their awesome return…I do always love standing in the hallway and watching them all re-enter the school world.
PS: The cell phone/internet connection at Eagle Bluff is notoriously poor. We will post pictures into a Flickr page/album as soon as we all return and have had a moment to catch our breath! If you need anything or are worried, please don't hesitate to reach out.
TODAY: EIGHTH GRADE INDEPENDENT RESEARCH SHOWCASE
At 2:15 PM, we'll gather in the Family Commons with the students in Mr. Milam's eighth grade Science and Design class as they share the results and findings from their Independent Research project. They will also share their English projects composed in English 8 with Ms. Atchison! Please join us to celebrate the interesting, incredible, and insightful work this class has done as they pursue knowledge in an area of interest to them. You don't want to miss this!
ADVENTURE DAY!
On Monday, June 6, the entire Middle School will be away from the building, enjoying our beautiful state of Minnesota and the sunshine! Our 5/6 students will spend a day canoeing Taylors Falls while our 7/8 students will raft down Cannon Falls. It's a great way to share one last adventure for the year and enjoy the warmth and sunshine together. Students will need to prepare a lunch to take with them, bring a water bottle, and apply sunscreen. Swimsuits can be worn as there is often time to swim, play, and wade into the water! We'll spend the day on the water, have lunch in a nearby park, and then return by 3 PM for dismissal.
If you do not wish for your student to participate, they will need to remain at home as the entire Middle School faculty will also be out.
PASSION PROJECT GALLERY WALK 2022
Just prior to our Moving Up Ceremony on June 7, the eighth grade class will share their Passion Projects with the community. As the capstone project of eighth grade, the Passion Project is a unique revealing of an eighth grader's journey of self-discovery, coming of age, and learnings through Middle School. Projects will be displayed in the Middle School hallways and common areas for you to enjoy, interact with students, and to share in the celebration of their middle school years. The projects this year are as varied and unique as the class members are themselves.
Please join us for this special time on Tuesday, June 7, from 12:30-1:30 PM. You can then join us immediately after for our Moving Up Ceremony in the Nicholson Center.
MIDDLE SCHOOL MOVING UP CEREMONY!
The treasured tradition of celebrating our eighth graders moving on to Upper School, each grades completion of another year, and the welcoming of our rising Middle School students from the fourth grade, will take place on Tuesday, June 7, from 1:30-3:00PM. Please mark your calendars and plan to attend.
LAST DAY OF SCHOOL
Our last day of school is Wednesday, June 8. The day begins at 8 AM with a Yearbook Assembly and then is followed by yearbook distribution and signing. The school day ends at 10:30 AM and there is no after-school care provided on this day. Please make plans now for your student for the remainder of the day on Wednesday.
NOTE: Many classes have planned outings, celebrations, parties, or festivities for the last day of school Please check your email and Schoology groups for details on these events!
SUMMER TIME
While we will be in and out of the office all summer, you can always reach us by email, should you need assistance, or have questions. As we work hard to close out the 2021-2022 school year, we are excitedly looking forward to the next. You can expect a comprehensive mailing at your home by the end of the month. It will include your students grade report for the year, information for next year, and other pieces of information you may need as we look toward 2022-2023.
We hope you'll take some time to have some fun, connect with each other, and enjoy a slower pace of life!
Be well and take care of one another!
IMPORTANT DATES
June 2 Eighth Grade Independent Research Showcase
June 1-3 Grade 6 Overnight, Eagle Bluff
June 6 Middle School ADVENTURE DAY!
June 7 PASSION PROJECT Gallery Walk, 12:30-1:30 PM
Moving Up Ceremony, 1:30-3 PM
June 8 LAST DAY OF SCHOOL, Early Dismissal 10:30 AM (No afterschool care available)
August 22 Back to School Day Events
August 24 First Day of School 2022-2023