June 2, 2022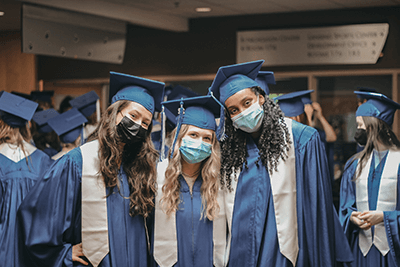 from Mark Segal, Upper School Director
One of the most challenging things an educator does is say goodbye to their students at the end of the school year. They spend the year building relationships based on trust and shared experiences only to have them come to an end early each June. There are some educators who believe that they have become experts at striking the right balance between attachment and detachment. Meaning that when the time comes for them to say goodbye they can do it with relative ease. I am unable to do that, especially with those students who are on the cusp of graduation. I have found that toward the end of each May, when stress, fatigue, and emotion is running high, I focus on the positive interactions and experiences with students. Although this practice eases the inevitable, I still get sad thinking about not having those students as part of the day-to-day community.
Over the past several years the Class of 2022 has spent more time with each other than anyone else in their lives, and next year they will be spread across North America attending new schools, meeting new people, and building new relationships. This will be a significant adjustment for all of us. Gemma Cheney, a senior clinical psychologist and a visiting lecturer at Royal Holloway, University of London, says that "students who are securely attached and have grown up with caring teachers in their lives, turn up in the classroom and school building ready to engage and learn." I have been fortunate to see this with six graduating classes, and believe whole-heartedly that this is the case at MPA.
I invite you to attend graduation this Saturday evening to celebrate the Class of 2022. As educators, we often spend more time with our students than our own children, so we grow to love and care about each one of them. This class of fifty-one young adults have brought laughter, tears, chaos, and joy to our community. I will continue to reminisce about the time and experiences we shared. To me, they will always be remembered as members of this senior class, and I am excited for their futures and to see who they will become.
I look forward to seeing you on campus soon.
Important Information
Quarter 4 final exams will be held at the end of this week (World Language) and early next week. Final exams are allotted 90-minutes of time and students take specific exams at scheduled times. The content covered on final exams is cumulative for the entire year, and is worth 20% of the second semester grade. There is no averaging of the first semester and second semester grades as each grade earned goes into the Grade Point Average calculation separately. The first semester grades were entered into each student's permanent record in January, so performance on the final exam has no bearing on the first semester grade.
A group of committed and talented upper school students have re-started the online newspaper Freethinker. They have worked hard to write and share stories with the MPA community about schoolwide, local, national, and international happenings. You are invited to visit their website here to see the wonderful work of our students.
The annual Yearbook Assembly is scheduled for next Wednesday, June 8 at 8:15 AM. All students are expected to attend this wonderful community event to commemorate the 2021 – 2022 school year. Parents are invited to attend this special gathering. Don't forget: there is an early dismissal at 10:15 AM next Wednesday after the Yearbook Assembly.
If your student will be absent, late, or needs to be excused early from school, please reach out to Rachel Westmoreland by email at rwestmoreland@moundsparkacademy.org or phone on 651-748-5544.
Looking Ahead
Thursday, 6/2: New Family Panther Party, 4:30-6 PM, MPA Campus
Friday, 6/3: Mandatory Class of 2022 Graduation Rehearsal, 11 AM, Nicholson Center
Saturday, 6/4: Class of 2022 Commencement, 6 PM, Nicholson Center
Monday, 6/6: English Final Exams, 8:45-10:15 AM
Monday, 6/6: Math Final Exams, 12-1:30 PM
Tuesday, 6/7: Social Studies Final Exams, 8:45-10: 15 AM
Tuesday, 6/7: Science Final Exams, 12-1:30 PM
Wednesday, 6/8: Yearbook Assembly, 8:15 AM, Nicholson Center
Wednesday, 6/8: Early Dismissal 10:15 AM