June 24, 2022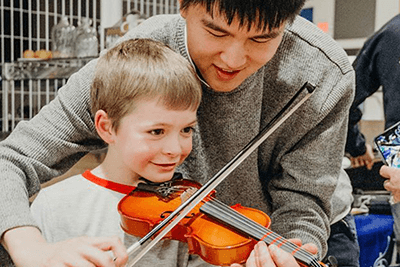 Dear MPA Community,
Do you have a desire to expand your family's perspective of the world? A room to spare? Space in your heart for another family member? MPA is seeking host families for three international students for the fall of 2022.
MPA and schools like MPA that have international student programs have struggled to find families willing to host since the beginning of the pandemic. We have three outstanding Upper School students (one male, two female) without homes yet and we are in great need of your help.
All have studied in the United States previously, for a year or more. Among them you will find a student who is an award-winning mathematician and pianist who plays in subway stations and nursing homes, a student who is passionate about oil painting and chemistry, and another who enjoys ceramics and track and field. All three are disappointed in the education systems they have been in and are looking for MPA's approach to rigor with purpose and joy. All three are fluent in English, strong students, and have a desire to be part of a family here.
How Can You Help?
Volunteer to host. Find many more details below. Note that a $9,000 stipend is provided for room and board.
Share this opportunity on social media. Find a Facebook post here and a LinkedIn post here. Share widely and often!
Email your network, neighborhood, and/or colleagues. Reach out to communications@moundsparkacademy.org and we will send you an email that is ready to forward.
Put a lawn sign in your yard. Do you live on a well-traveled street in the Twin Cities? If so, email communications@moundsparkacademy.org and we will deliver a host family recruitment lawn sign to your home.
As you and your family consider hosting, please review the MPA Host Family Recruitment Flyer and Host Family Application.
STIPEND
A 10-month stipend of $9,000 will be directly deposited in equal installments of $900/month on the first of each month for the previous month, September through June.
An early installment of $500 will be deposited on August 1 in preparation for your student's arrival; the remaining $400 will be deposited on September 1.
TRANSPORTATION
Host families are responsible for providing transportation to and from school and school-related activities.
Host families will work with their student in scheduling rides for social events.
MEALS
All international students will receive the MPA school lunch. Host families and students do not need to pack lunches.
Host families are responsible for providing two meals on all weekdays and three meals on all weekend days.
We hope you'll consider opening your hearts and homes to one of our international students! Give it some thought, and if interested, please reach out to me for additional information and/or to begin the process of becoming a host family. I would love to have a conversation with you!
Thank you so much for considering,
Cory Becker-Kim
International Student Program Coordinator
Advanced Language and Culture Teacher
cbeckerkim@moundsparkacademy.org