September 1, 2022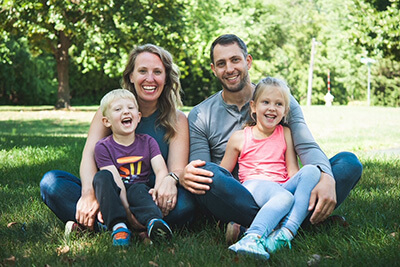 The Myeroff Family from Lake Elmo just began their second school year at MPA with their Kindergarten and PreK students.
What initially attracted you to MPA? 
When we started our school search, we weren't looking at private school for private schools' sake. In fact, we were leaning more towards public schools until we started learning more about MPA. We wanted a school that would help grow our kids' confidence while they learned, and a community that believed school was not just a place to learn but a place to grow into a kind, compassionate member of society. We wanted a community that valued diversity where no students got or felt lost in the shuffle. We wanted a community for not just our kids, but also for us as a family. We were blown away that we found all of that and SO much more at MPA!
How is your child encouraged to dream big and do right at MPA?
We love that in PreK, knowledge isn't just about learning the ABCs and numbers, but it's about the social/emotional growth that is so critical at that age. They talk about feelings and different ways they can approach situations, and what kindness means and how to show it. It's been so fun to see how proud Maddy is when she gets recognized for a CHAMP action!
What would you tell another family considering MPA?
You won't regret it! Every touchpoint we've had interacting with MPA has either made us say to ourselves, "we're so happy with our decision," or say, "this is even better than we could have imagined." It's amazing how easy it is to become part of the community and we have loved our experience so far!
In what ways has MPA prepared your child for life in the 21st century? What are the key attributes, skills, and content that you find most valuable?
I would say the fact that their education isn't focused on memorization, but it's about building critical thinking skills, focusing on teamwork, and developing kids that want to make the world a better, kinder place.
What do you love about MPA?
Everything! We have been blown away by our experience at MPA. Between the amazing teachers and staff, the facilities, the incredible parents we've met, the kind new friends Maddy has made, and the confidence and knowledge she's learned in just a year, it's really been incredible.