September 22, 2022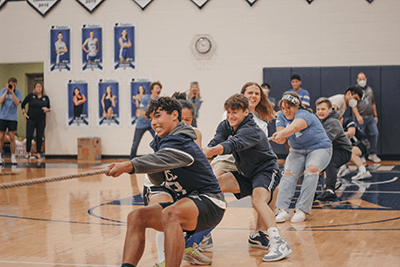 Homecoming 2022: We Are Panthers was a huge success!
Thank you to students, parents, faculty and staff, volunteers, alumni, and friends of MPA who joined in to make this year's Homecoming festivities a wonderful time for all. After a week of celebration and school spirit, Saturday was a festive day with MPA athletics, camps, and honoring MPA alumni.
Thank you to Olympian Mason Ferlic '11 for leading many Lower School students who participated in our cross country clinic, and sharing his experiences as an MPA graduate and Olympian. Students loved the physical activity and joyfully shared their experiences "running a mile" and showing off their new skills.
More than 30 students also participated in the soccer camp led by Mr. Sheehan and Mr. Scinto. We loved watching parents cheering from the sidelines.
Several retired faculty and staff also joined in, including Dan Ethier, Bev Docherty, Chris Jensen, and Joe Kordosky. We loved hosting more than 20 alumni on campus, most of whom had not been on campus for an event in over 20 years.
School spirit was high throughout the week, with dress up days, the Middle School game day, Upper School BBQ and Homecoming dance, and much more! Volunteers made it all possible, from joyous face painting, to supervising activities, to keep concessions going on Saturday. Thank you one and all!
Click here to view a photo gallery of the festivities
Homecoming Results:
Boys Force Football: Force, 6—Providence, 49
Girls Soccer: MPA, 5—St. Agnes, 1
Boys Soccer: MPA, 0—St. Agnes, 3
Girls Volleyball: MPA, 1—New Life Academy, 3 (28-26, 24-26,19-25,17-25)
Girls Tennis: MPA, 5—Cretin Derham Hall, 2
Girls Swimming: MPA 4th out of 12 teams (Tartan Invitational)