January 25, 2022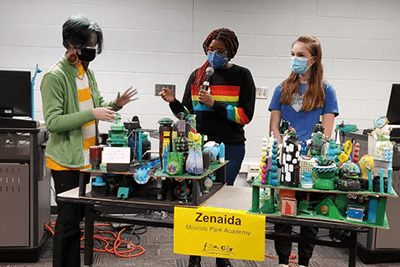 A huge congratulations to our eighth grade Future City participants! MPA, in its third year of participation, had our best showing yet!
This year's competition entailed the same elements: a 1500-word essay in collaboration with their English class, a physical model of their city, and a presentation. However, the problem that students must solve changes every year. The challenge that students faced this year was to build a waste-free city. This theme was heavily inspired by nature and its circular processes, in which one organism's waste is another organism's food. The modern human world, however, operates in a linear fashion that follows a path of taking natural resources, creating products to use, then discarding them–from water bottles to clothing. While recycled materials are becoming more popular, today's approach does not have a productive way to capture most of the limited resources and materials that our trash is composed of. This unfortunately causes pollution and many other issues for humans, the animal kingdom, and the world's natural processes. This challenge serves to cultivate young minds to build a progressive, healthier world.
Below are summaries of this year's awards:
Zenaida: This Future City won third place overall in the state of Minnesota, Best Infrastructure/Commercial Layout, and Best Age-Friendly City! The team was composed of MPA eighth graders Izzy V., Andrea P., Abby M., Teagan O., Ansel S., and Rosie B. During questioning, Izzy commented on how Andrea and Abby are new students to MPA this year and how the process of bringing them into the MPA community was special.
La Citta Del'Acqua: This Future City was made by Liam K., Truman W., Coba D., Boyd M., Matt T., Amelia V., and Roman S. This group won Best Essay in Minnesota and Most Innovative City Setting!
Greenwaters: This group was composed of Mina K., Zara G., Samantha G. , Amy X., Liam M., and Nellie L. Their 'Greenwaters' City won Outstanding Future City Project Plan!
A special shout out goes out to the MPA teachers, staff, and mentors who assisted students with writing their essays, providing information on sustainable food, ecosystems and waste-free programs, and model-building. Project-based learning takes immeasurable amounts of time, planning, commitment, and collaboration. The world is in good hands with these kids in the future!
We thank the following professionals for being mentors and judges,
Mentors:
Chris McLaughlin–Retired 3M Executive
Aimee Pearce–Medical Doctor
Olivia E. LeDee, Ph.D.–Acting Federal Director, U.S. Geological Survey, Midwest Climate Adaptation Science Center
Doug Galler–Architect
Mike Darrow–City Planner, Maplewood
Judges:
Lisa Vale
Joseph Pugh
Kate Johnston
Paula Tuebo Munkelwitz
Carol Bagnoli
Raphael Coffey
Scott Burnett
Salley Doherty
Meghan Masters
Bridget Mayer
9th grade Future City veterans: Alex Milam, Liam O'Keeffe, Rowan Mulroney, Ali Zuhayb, Zainab Lodhi