January 27, 2022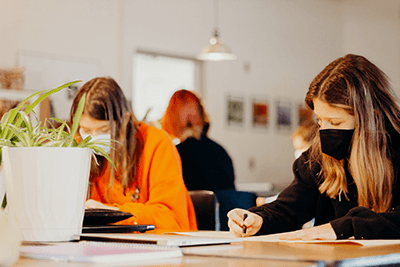 from Dr. Jenn Milam, Middle School Director
Winter Conferences Are Almost Here
Your partnership with us is an integral part of your student's success. Most importantly, your student needs to know that you hold them accountable for being a good student academically, a caring human being and positively contributing member of our school community, and that you value and work with their teachers to help them be there best!
We are eagerly preparing for the winter conferences that are coming up next week. Please take this time to ask questions, listen with curiosity, and work to find ways that you can support and reinforce the learning that is happening at school at home–and we pledge to do the same!
Save The Date! Middle School Community Event
On Friday, February 25, we will load up five (yes, I said 5!) buses and take all middle school students to Badlands SnowPark for an afternoon of SnowTubing fun (2:30-5:30 PM)! This is not just a student event, in fact, our Middle School Parents' Association has planned to bring a food truck, build a giant bonfire, and an event that will welcome parents, families, and siblings to the hill for fun and community time.
More information is forthcoming regarding participation release, food costs, and transportation information for both students and families. Please SAVE THE DATE on your calendar and plan to attend to meet other families, teachers, and students.
Reminder: Quarter 2 Grade Reports
Availability of grade reports for Quarter 2 was delayed from Monday, January 24 to Monday, January 30 to account for the short shift to virtual school for grades 7-12. We made the decision to allow teachers and students a bit more flexibility and time to wrap up Quarter 2. We hope that this helped to mediate any negative impact on student's academic standings that may have happened with all the shifts in the last few weeks.
iTERM 2022–Update
At this time, iTERM 2022 is still "on" and planning for field trips, community outings, guest speakers, and awesome experiences is underway. We continue to monitor all things on the COVID front and will adjust as needed. While it seems that the surge is slowing and that we are in good a position to move forward, I urge cautious optimism in the coming weeks.
Grade 5 Music Share–New Date
The new date for the awesome music share event is Thursday, February 17. We will welcome parents and guests (2 per family, only) to the performance from 2:20-3 PM.
Our amazing fifth graders are thrilled to share all their musical talents with you in our annual fifth grade music share concert. We will showcase the band, orchestra, and choir/drumming ensembles. Music has been such a gift this year and our fifth graders are so excited to perform for you. This concert will be their first of many in the years to come. We would love your attendance but understand that the timing may be difficult for some families. We will offer a livestreaming option that will be sent in an email to you with a link and code before the concert starts.
Upcoming Events:
5-12 Band Concert: May 19
5-12 Orchestra Concert: May 12
5-8 Vocal Concert: May 5
If you have questions, please feel free to reach to one of our amazing music teachers!
What Teens Want Us to Know…
I read a lot. And I'm grateful for the internet because a good bit of what I read is keenly curated, edited for length, and gets right to the point. I mean, who has time to read an entire book?
In all seriousness, in my scrolling a few days ago, I happened upon "7 Things Teenagers Desperately Need Adults to Understand" in Psychology Today and immediately wanted to share it with you all – my tribe, my fellow parents, those who share this twisty, turny, bumpy, brutiful (brutal + beautiful), journey of raising teens.
It begins with this powerful rendering of what it's like to be a teenager today:
Every day is a prison, trapped inside this changing body, repeating the same day over and over. My whole life is made up of things I have to do, not things I want to do. Tests, quizzes, reading assignments, papers, group projects—I spend the entire day with people I am forced to be with: teenagers who feel just as messed up as me.
The rest of the article goes on to share seven insights that I think all parents need to hear…and if you already know, maybe you need to be reminded, like me. While their bodies are bigger and their ideas even more so, teens still need us and, in many ways, they need us more.
I invite you to read the article available here:
And after you read the article, I invite you to offer a comment on which one of the seven resonated most with you and why. You're also welcome to offer your own addition to the seven. We'll offer these on our PADLET wall here and see what our Middle School community has to share.
If you've never done a padlet before, they're super easy! Just click the link above after reading, then click on the "+" in the bottom right of the screen to begin your contribution. I look forward to reading your thoughts. You can also "like" and comment on others' posts! It'll be fun!
Important Dates
Jan 30: Release of Quarter 2 grades (delayed)
Feb 3: Winter Conferences, 3:30-8PM
Feb 4: Winter Conferences, 8AM-4PM, No Classes
Feb 10: Winter Conferences, 3:30-7PM
Feb 17: Music Share, Grade 5, 2:20-3PM
Feb 25: Middle School SnowTubing, 2:30-5:30PM
Feb 28-Mar 4: iTERM 2022
Mar 7-18: MPA Spring Break
Mar 21: Classes Resume