October 6, 2022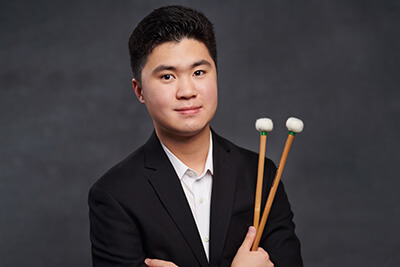 What are you currently doing, professionally and/or personally?
I am a student at the Don Wright Faculty of Music, Western University in London, Ontario, Canada (also where I currently live), studying Percussion Performance and entering my third year.
How did you get there? Where did you attend college? Are there some career moves or other key experiences or relationships that have inspired you?
I was able to get to where I am today because of the numerous opportunities MPA and the Twin Cities provided for me. While in the Twin Cities, I got to play in the Symphony Orchestra of the Greater Twin Cities Youth Symphonies organization. I got to perform in venues such as Orchestra Hall and Ted Mann Concert Hall, mentor younger musicians in other orchestras, and tour internationally in Eastern Europe (2018). This past June, I was invited by GTCYS as an alum to come back to Minnesota to perform and tour internationally with them in Southern Italy–it was wonderful to come back and visit all my old friends and relive fond memories at MPA!
It all started for me with MPA's ensembles, who inspired and shaped the musician I am today. While at MPA, I participated in Concert Band, Varsity and Concert Choir, and Percussion Ensemble. In addition to developing my musical abilities, each ensemble helped to develop my confidence and teamwork skills, very important skills to have when majoring in music and in life.
While in Minnesota, I also took private lessons at the University of Minnesota under the tutelage of Dr. Adam Rappel. His patience, dedication, and guidance helped to get me to where I am today, and I don't know where I would be today without him and my MPA teachers Ms. Wantock and Mr. Habermann.
How did your MPA experience prepare you for your life today? How did MPA inspire you to dream big and do right?
MPA's faculty inspired me to dream big and do right by serving as excellent role models, and leading by example. Every faculty member I interacted with impacted me through their respect, responsibility, leadership, and methods of keeping us engaged and fostering learning through multiple flexible approaches that included Socratic seminars and frequent in-class discussions, a learning environment very few schools have. Given the nature of my current major (Bachelor of Music in Percussion Performance), which involves a lot of performing in large ensembles and working in "teams," MPA has given me the lifelong skills necessary to lead and collaborate with my colleagues effectively.
What's next? Do you have any aspirations, personal or professional, that you'd like to share?
To keep learning and performing!