October 25, 2022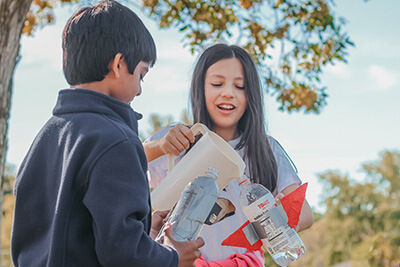 If you have ever dreamed of a way to experience life at MPA in a day, the PreK-12 Preview is the perfect opportunity to discover why you belong here. You and your entire family are warmly invited to attend the MPA Preview on Sunday, November 6 at 2 PM.
This event will provide prospective families with an opportunity to truly discover the type of remarkable hands-on learning that MPA students do each day. You will rotate among several classes taught by our expert faculty. These will be interactive, experiential sessions that are actually abbreviated versions of real MPA lessons, modified to be appropriate for all ages.
LOWER SCHOOL SESSIONS
Physical Education: Juggling Scarves
Get ready to move, play, and laugh! Students will learn the basics of juggling by using one, two, or three scarves.
The Joy of World Language
There is so much joy in world language at MPA! In this session, you will learn some fall vocabulary, sing songs, play a game, and possibly work on a small craft.
"The Fall Song:" Bringing A Poem To Life
With "actor tools"–your body, face, and voice–join us for this intro to Lower School theatre. Put these tools to work and bring a poem to life!
Makerspace Marble Roll 
Ready, set, roll! This beloved fourth grade Makerspace activity requires teamwork, creativity, patience, and enthusiasm.
Food Education
Join Ms. Santiago for a condensed hands-on version of her "Edible & Educational" ISACS food education fellowship work!
Science Sort
Students will love this sorting activity with our first grade teachers. This activity will be based on a short book, and then students will sort object-possible buttons by various features such as size and color. This will be hands-on and participatory.
PreK Circle Time
Join in on a PreK circle! PreK teachers will demonstrate what is incorporated in circle time, such as a daily greeting, calendar, and weather.
Dreaming Up: A Celebration of Building
Engage in this STEAM/literacy lesson. The group will read a book that celebrates many well-known architectural features around the world. After reading the story, participants will be able to choose one of four stations to recreate their version of one of the architectural features mentioned in the book.
MIDDLE SCHOOL SESSIONS
Is Math Made Up?
Math is all around us and can be found in every part of our world, but who came up with these math concepts? Have the math relationships we find in our world all been created by ancient philosophers, or were these relationships always in nature and merely discovered? We are going to take a look at just a handful of the many math relationships out there and see if we can find answers to the questions we have.
Sumi-e Painting
See how art techniques are presented and practiced in Middle School art class. As an example of this process, guests will have an opportunity to learn about Sumi-e Ink Painting, trying some of the foundational brush strokes.
Día de los Muertos
Join this session for a classic and timely Middle School Spanish lesson on Día de los Muertos, or Day of the Dead, to see how this day is observed and celebrated around the world.
Violin Lesson 101
Ms. Lawson will show you what a beginning student setup looks like on the violin and how lessons are embedded into the music program at MPA.
Foam Rockets
Using foam rockets, you will experiment with how the angle might affect how far it goes. You will consider arc, gravity, wind resistance, and things that could affect the entire experiment.
Identity Circle
This session explores the identity circle exercise that our 5/6 and 7/8 affinity groups use to check in with and deepen their understanding of their own identities.
Blackout Poetry
In this session, guests will go over what poetry is, how it's different than prose, and the special power it holds. Then, we will create our own poems from an existing piece of text.
Math Games
This is an introduction to how fun the world of Middle School mathematics can be. Math games allow students the opportunity to explore fundamental math concepts like number concepts, computation strategies, and other important mathematical concepts.
UPPER SCHOOL SESSIONS
Amphipathic Molecules
How do water and soap work, and how do they work together? This session is an exploration of how amphipathic molecules (soap) associate with water and how that is related to cell membranes.
Image Analysis
Looking at images in small groups, students will first look at just one section of a piece of historical artwork. Then, as a group, you will analyze, discuss, and make predictions for each of them and based on what is seen.
Robotic Spirographs
In a perfect exemplification of STEAM, art and science collide in this Makerspace robotics activity. Choose your colors and your robot, and your Spirograph will come to life!
College Counseling: Helping Students Find Their Fit
MPA's college counseling process is driven by careful consideration of each student's unique set of interests, priorities, and aspirations, balanced with an understanding of the current college admission landscape. Our college counseling staff will present on the Upper School college counseling process, highlighting steps from grade 9 to grade 12.
Spacial Relationships + Creative Problem-solving With Clay
Understanding spacial relationships by building forms in clay helps students learn to design in 3-dimensions, take risks, problem solve, and physically create forms that stem from the question of, "What if?" Join us in the studio for a joyful demonstration in the Visual Art department and learn why art is an essential element of all our students' education.
Diversity, Equity, Inclusion, and Belonging at MPA
With the director and assistant director of diversity, equity, inclusion, and belonging at MPA, you will
Chemical Reactions Challenge
This lesson will require skillful observation–are you up for the challenge? You will see and experience how Upper School scientists participate in labs, mixing colorful chemicals and analyzing all of the different reactions that they make.
Graduate Certificates of Distinction
Explore Graduate Certificates of Distinction at MPA, learning more about this program designed for passionate students who want to take on additional work and independence beyond an already-rigorous education.