November 16, 2022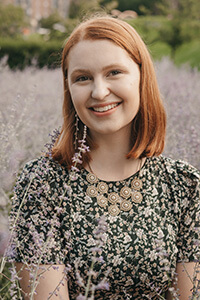 We are launching a special story series where we profile Dreamers, Doers, Freethinkers, and Right Makers in the MPA community to inspire one another. Do you have an impactful story to share? Email communications@moundsparkacademy.org!
If you spend time at MPA during the summer, you'll notice the lavish blooms and abundant vegetables and herbs that sprout about every year. You'll also notice a particular student tending to the flora, ensuring that it is reaching its full potential and seeking out ways to enhance and sustain it. MPA senior Cassie Atkinson, consistently gives her time, dedication, and creativity to the campus gardens during the summer and throughout the year. She has a love for the outdoors, including a deep knowledge of plants and animals, is a leader of the Upper School E-Club, and inspires those around her to consider the environment with the same care that she does. Her work includes the general caretaking of the outdoor space, but it also careful curation and ingenuity when it comes to environmental efficiency. Cassie's notable passion for sustainability has even produced amazing features such as the medicine wheel garden, a native botanical practice.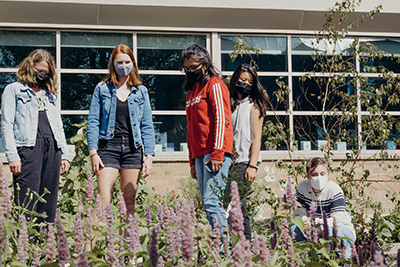 Cassie's commitment to sustainability does not go unnoticed among our community. In fact, it led to Dr. Jurewicz—the interim Lower School director—approaching the senior, asking if she would take on the task of getting MPA's old aeroponic tower up and running. Since this tower has been unused in the building for decades, Dr. J saw an opportunity to put it to good use and have an experienced student teach younger peers about an important topic. Shortly after, a senior service project was born, as Cassie agreed to use this growing equipment to teach younger students about aeroponics and sustainable growing. Cassie will show students what the aeroponic tower can grow, how it works, and even have some taste tests from whatever is harvested.
Cassie expressed that this is an incredibly important project, because "sustainable living is the future."
"Especially for young people, who don't have the financial liberties to make sustainable choices in their energy consumption," she said.
Through the awareness Cassie is raising, a wide range of socioeconomic backgrounds can have the opportunity to participate in sustainable living by growing their own produce, and protecting wildlife and their habitats. She's very excited to promote this project and mission to the community.
Although Cassie had plenty of sustainability topics to choose from she says that "aeroponics is becoming increasingly important for humans to acknowledge because the resources and land we live on are critical and limited. Ninety percent of farmland is cultivated for cattle in the U.S.– That is a lot of tallgrass land that should be restored to preserve a natural carbon cycle. It's also important for people to know that it's possible to grow your own food in urban settings, with limited or no space for soil. Machines like the aeroponic tower preserve space and make it possible."
Cassie's senior service project is one that will impact younger generations to invest in their future through sustainable methods. The project's initial processes will start this month and take four to six weeks to begin running smoothly.