November 17, 2022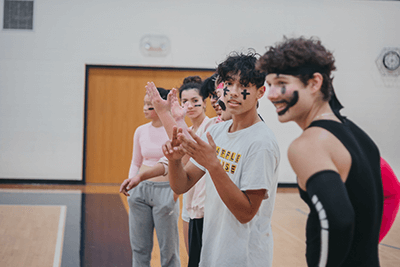 from Bill Hudson, head of school
Throughout the day, you have undoubtedly received multiple messages from MPA and other non-profits urging you to make a gift today. Give to the Max Day in Minnesota is a fun and exciting way to maximize your giving to make a tremendous impact on schools and non-profits. For instance, we have an opportunity today at MPA to unlock $100,000 in gifts if we raise $250,000.
In determining your philanthropic priorities, you may ask, "Why give to MPA? Why give philanthropically when I already pay tuition?" That's a fair question. From one perspective, an MPA education is transactional. Families pay tuition and, in return, receive an excellent education. However, I would venture to say that the relationship between the students, faculty, staff, and families is much more than a simple business transaction. It is transformative, and that is what motivates me more than ever to give to MPA.
What do I mean by transformative? The sense of community and the relationships forged between students and their teachers are genuinely transformational. Upper school students recently took a survey commissioned by our accreditation agency, ISACS, about community and belonging in independent schools. Here are a few of their open-ended responses that speak to the transformational nature of this special relationship:
"I am almost always excited to come to school and talk with either my peers or my teachers about something important to me or something that excites me."
"The support system provided both through the tight-knit relationships with teachers who genuinely care about what is going on beyond the school walls, and through the close community who care deeply about one another."
"Good relationships with teachers reduce stress and make the community feel safe and inclusive. MPA does a great job with this."
"The way my peers and teachers treat me in a positive way lets me know that I'm welcome and cherished in my environment. It's not one thing, but the everyday support and kindness I receive make me feel comfortable being here."
If you need even more evidence of how MPA is transformational and additional motivation to make a gift today, here are a few reasons our eighth-grade students appreciate MPA:
"I'm grateful for the kindness and positivity of the community of MPA. I'm grateful that this place has become a place where I know that these people will lift me up even on a bad day. I'm grateful that our community, no matter how small, is powerful and strong."
"I am grateful for MPA because of the safe environment that it provides. Nowhere else can you share how you truly feel about something and not fear being judged or treated differently because of your beliefs."
"I am grateful for MPA because I am surrounded by people who will always help me and support me and continuously want me to be successful. I always feel loved and happy around the students and teachers."
"I am grateful for MPA because in all of my classes and everyday school life, there is a sense of community. You can tell the teachers, and classmates care for you and will be there for you if you need."
As Thanksgiving approaches, we naturally contemplate the goodness in our lives. Such reflection takes us outside ourselves to acknowledge the experiences, events, and people in our lives that bring us joy. I thought you might enjoy what our fourth-grade and kindergarten students are grateful for and what brings them joy:
Fourth Grade
"I am so, so grateful for our teachers because they help us learn what we need to succeed."
"I am thankful for my dad because everything I have comes from my dad."
"I am grateful that the Minnesota Vikings are doing good."
"I am grateful for the ability to go to school and learn new things every day."
Kindergarten
"I'm grateful for mama, dada, and McDonald's cheeseburgers."
"I'm grateful for my mom and dad to take care of me, and Teddy, and me since I'm brave."
"I am grateful for squirrels."
"I am grateful for snacks and French class."
For all of these reasons, Mounds Park Academy is at the top of my family's giving priorities. The impact of the MPA community has been transformational for my family and me. Your children, and my amazing colleagues, bring purpose and great joy into my life, and I feel an incredible sense of gratitude to serve this wonderful community. In this season of thanks, please know that you and your family are in my thoughts. Happy Thanksgiving!