November 28, 2022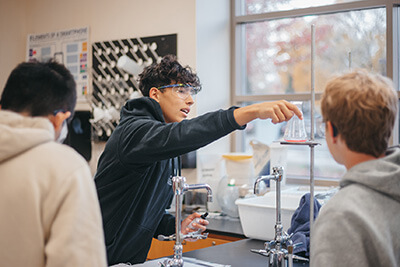 At Mounds Park Academy, Upper School is demanding, but not draining. The rigorous college-preparatory curriculum is balanced and always focused on the application of learning rather than memorization. Whether studying chemical processes up close and hands-on, diving deep into constitutional law, or taking on a character through the art of improvisation, our students connect their profound content knowledge to the world in ways that prepare them to make an impact.
So, what will you discover when you begin your Upper School journey at MPA?
Rigor With Purpose
"I love the sense of high expectation coupled with a supportive environment which I think is so key for my daughter," says MPA alum and Upper School parent Dr. Sirid Kellermann '88. "It can be challenging to recognize and play up your strengths, and to work on the things you're not so hot at academically."
Academic rigor peaks in Upper School at MPA, intentionally woven into Upper School students' education every day. In addition to asking the "why" and "how" behind their lessons, Upper School teachers also ask more of their students, and synchronously, students expect more from their peers. This beautiful balance results in classes that are engaging, hands-on, and challenging. Rigor means that students are not told how to solve problems, but rather given the chance to explore and discover applicable solutions, because at MPA, rigor equates to participation and involvement. It means that students are not sitting in the back, bored, disengaged and distracted, but instead are challenged, attentive, actively participating, and eager to be diving deep into complex concepts. As a result, students graduate prepared life.
"From day one, I've been taught that the 'why' is just as important as the 'what.' That's powered my curiosity and driven me to delve deep into areas I care about," recalls Isak Dai, a graduate of the MPA Class of 2021.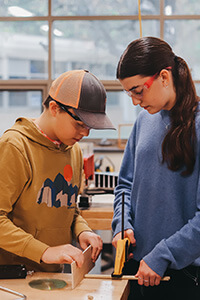 Collaboration Over Competition
The culture of MPA's Upper School emphasizes collaboration over competition. Students work together in an environment surrounded by support and encouragement where teachers are partners on the journey. Meaningful relationships culminate in the Upper School and last a lifetime. "It's been good for her [my daughter] that the class sizes are small and no one falls through the cracks. I like that she's surrounded by other high-potential students who can inspire her–and that can take inspiration from her as well," says Dr. Kellerman.
In the spirit of collaboration, every classroom is equipped with academic technology readily available to students. The Malone Schools Online Network allows juniors and seniors to take specialized courses online, in real time, meeting face-to-face with other students and teachers across the country. The Makerspace allows students to work together and use discussions, creativity, and critical thinking to solve real-world problems. Plus, having small class sizes is critical to both promoting collaborative work and conversations in the classroom, as well as ensuring that every child is known and understood. MPA teachers are closely attuned to the gifts and challenges of each student in their classes, and they know how to bring out the best in them. As a school, MPA is intentionally small because we believe that small classes and a connected community create the best learning environment for students.
Something For Everyone
"I love that MPA gives students the opportunity to try so many different things–most students aren't just known for one passion," says Sophia Spisak '23, who is involved in both athletics and extracurricular clubs at MPA. With a no-cut athletics policy and more than 35 student-run clubs and activities, there is truly something for everyone here.
In addition to their passions outside of school hours, Upper School students at MPA are enabled to actively shape curriculum and impact their education. They are supported and encouraged to recognize excellence that takes place outside of our already rigorous curriculum. One of MPA's visionary programs in the Upper School is the Graduate Certificate of Distinction. It inspires students' educational quests in one of four areas: Global Studies, Science Technology Engineering Math & Design (STEM), Fine Arts, and as of this year, Literary Arts. This program was designed to provide committed students a way to formalize the work that they are passionate about.
"The most valuable part of the GCD program was the way it motivated me to get out of my comfort zone and explore the full range of cultural and foreign-policy opportunities the Twin Cities has to offer," says Pranay Somayajula '18, now a graduate of The George Washington University.
1:1 College Advising
MPA's college-going culture is based on developing each student's unique set of interests, priorities, and aspirations. The college search process is a progressive, four-year journey at MPA that thoughtfully prepares students for selecting colleges. Elements of the process are integrated into each year of Upper School through the seminar and advisory programs. In ninth grade, students are preparing by delving into Upper School academic opportunities and get involved in extra-curricular and volunteer activities. MPA's college counselors also visit Ninth Grade Seminar to introduce students to available resources.
"During ninth grade, we introduce the idea of finding the right fit and reflect on what that means. We inspire MPA students to dream big and do right, and to become the people they're meant to be," Lisa Pederson, director of college counseling at MPA shares. "And rest assured, they'll be ready."
MPA graduates are brilliant. They stir the human spirit, stand for justice, and shake the world. They will forever dream big and do right.