December 1, 2022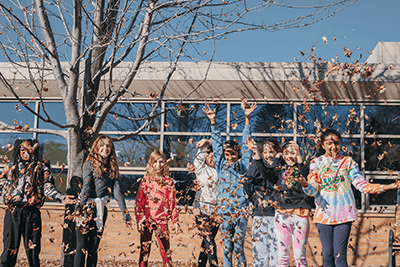 by Dr. Bill Hudson, head of school
I invite you and your family to our annual pancake breakfast next Wednesday, December 7, from 7-8 AM to celebrate Founders' Day. Founders' Day celebrates the official date that the school was established. This is a very special celebration, and what better way to mark the school's founding than with a delicious pancake breakfast made by members of the MPA Board of Trustees?! This year, the day is being made extra special with an all-school pajama day in honor of the Book Festival.
My family spent a quiet Thanksgiving with my husband Ross' brother and sister-in-law. We gathered for the annual Olson Family Lefse and Flatbread Making Day on Saturday. True North Dakotan Norwegians Willard and Vernita would spend a day making lefse and flatbread for their children, grandchildren, and great-grandchildren to enjoy over the Christmas holidays. Now that they have both passed away, we started a new tradition of getting together as a family to make the lefse and flatbread. It is a beautiful day of remembering, telling stories, arguing over which of Vernita's lefse recipes we should use, working together to roll the perfectly rounded lefse, nurturing a shared identity, and sharing a meal.
Author Tim O'Brien in his book "The Things They Carried," wrote, "And sometimes remembering will lead to a story, which makes it forever. That's what stories are for. Stories are for joining the past to the future. Stories are for those late hours in the night when you can't remember how you got from where you were to where you are. Stories are for eternity when memory is erased when there is nothing to remember except the story. As for families, they 'often use their stories to communicate beliefs, values, and important life lessons of the family system and of the larger sociocultural context.'" (Fiese & Wamboldt, 2003)
Storytelling at MPA is not much different. The Founders' Day Pancake Breakfast is our school's Thanksgiving, an opportunity to retell the founding story and celebrate our shared values. On December 7, 1981, what would become the first Board of Trustees, met and officially voted to found Mounds Park Academy. The Articles of Incorporation were filed on December 11, 1981, with the state of Minnesota establishing Mounds Park Academy as an educational non-profit and were approved on December 14, 1981.
Our founders are Mr. Bob Kreischer and Ms. Sandy Kriescher Smith. They began MPA with a dream of creating a school that put students' needs first and understood that academics, arts, and athletics are all equally important. In the first draft of the purpose statement of the developing school, Bob and Sandy wrote, "Mounds Park Academy is an educational community, living and working positively and productively together for the purpose of helping students become better educated, more able to reach their potential, and better able to be good citizens capable of dealing with the problems they will face in an ever-changing world." I find it striking that we today strive for that same purpose.
Our founding story sharpens our efforts to inspire students to identify problems in our community and our world, use their values, knowledge, skills, gifts, and talents to address them, and develop the confidence and courage to challenge the status quo and tackle challenges head-on. Our world desperately needs actively engaged, educated, ethical, and empowered citizens committed to improving our world. Now, more than ever, our young people need an extended family to support and guide them, provide a safe and nurturing environment, and ensure their confidence to navigate and seize unknown opportunities and challenges.
I look forward to seeing you next Wednesday morning!
More About MPA's Founding Philosophy
December 1, 1981
Our purpose is to create the conditions, within the school environment, for each individual to develop to the best of his or her potential. This means:
Developing an appreciation for the worth of each individual student
Learning from the individual differences hound in each student at the school
Helping to develop a sense of responsibility
Stressing the importance of the basic values of our country
Acknowledging a belief in God based on the teachings of our traditional religions
Encouraging an enjoyment and love of learning
Encouraging independent thought and curiosity
Developing an understanding of the processes of learning which best meets the individual's need
Developing an understanding of the interrelationship of subject matters
Understanding how the learning of basic skills relates to developing a meaningful and productive life
Becoming more conscious of the scope of the world and how they relate to it.
There are four main ingredients contributing to the success of our school. First is the student body which is made up of a diverse group of individuals, each with their own strengths, talents, and enthusiasm. Second is a dedicated faculty that enjoys and really cares about their students as individuals. Third is an administration that truly believes in establishing an atmosphere of support for the students, faculty, staff, and parents. Fourth is a Board of Trustees which is actively committed to overseeing the entire operations of the school.