December 2, 2022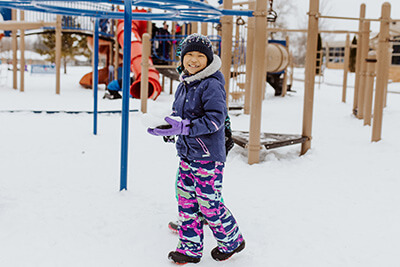 With any relocation, there are many moving parts as families transition their lives somewhere new–one of them being your first Minnesota winter! Minnesota has a climate that allows us to experience four distinct seasons. With the right mindset and preparation, experiencing the transformation from one season to the next is inspirational and invigorating. Here's how you can set your family on a path to thrive, not just survive, through your new favorite season here.
Keep Kids Moving
The winter months can get long here in Minnesota. It's cold outside and there is less daylight, so it can be hard to stay motivated, but physical activity is important for everyone all year round–especially young children. Physical activity is vital to a child's success emotionally, physically, and mentally. It helps them build and maintain healthy bones, muscles, and joints, and prevents chronic diseases. Physical activity is beneficial for the development of cognitive skills, which can help kids stay more focused in the classroom. It also helps kids sleep better and significantly reduces stress and symptoms of anxiety and depression.
At Mounds Park Academy, we believe in the importance of physical activity and encourage students to be active outdoors throughout the year. We know that children need time to play and socialize, so our students have recess every day—even in the winter. Although it's colder outside, all it takes is a few extra layers. The benefits are seen in the classroom as well as on the rosy faces of our students.
MPA students also embrace winter through their activities and athletics, such as the Middle and Upper School Alpine (downhill) ski team, Middle and Upper School Nordic (cross country) ski team, the boys hockey team, grade level group outdoor adventures like snowtubing, and Northern MN i-Term adventures like dogsledding.
Find Joy In The Snow
In the wintertime, the landscape comes alive. The snow brings new ways to move, play, and explore the great outdoors in Minnesota. Did you know some trails are only accessible when lakes and ponds freeze? Family fun and outdoor opportunities around the Twin Cities include ice skating on many of the 10,000 lakes, sledding, skiing, snowboarding, and snowshoeing at local parks, trails and mountains. Check out the Afton Alps, Theodore Wirth Regional Park, Minnehaha Regional Park, Battle Creek Regional Park, Lake Elmo Park Reserve, and many more! As you think about activities for your child in the winter, you might consider things that they've never tried before, like cross-country skiing or snowshoeing. But even building a snowman or snow fort are easy and accessible ways to be active outside. Ice skating and sledding are always fun activities to do, but a simple walk outside is a great way to explore and find joy in the beautiful snowy outdoors. Most importantly, keep it fun and let your child lead the way and pursue the things that bring the most joy.
Monitor Screen Time
When the weather is just too intense for fresh air and you find yourselves huddled up at home, it's especially important to limit screen time. The American Academy of Pediatrics recommends two hours or less a day of screen time. Kids are also more likely to be active when they have fewer opportunities to sit with an electronic device or watch TV.
Inspiration for activities beyond the screen is everywhere–especially within your own community! From bowling to indoor playgrounds, there is something for children of all ages. Many community centers and schools, including MPA, offer open gym times to their communities. It's also a great time to sign up for swimming lessons or other organized activities like yoga, basketball, gymnastics, dance, or martial arts. These kinds of activities give kids an opportunity to be active while getting to know others in the community.
Embrace Hygge
Minnesota culture, with its deep Scandinavian roots, urges us to embrace winter in order to overcome the darkness and gloom. The Danes call this "hygge," a term that has become popularized (although Norwegians claim its origins.) Hygge looks to light, warmth, the outdoors, rest, and cozy comfort as sources of joy and growth and antidotes to the cold and darkness. Whether it is lighting candles, adding more holiday lights, turning up the thermostat, snuggling in warm pajamas, or taking long winter hikes, hygge presents a pathway to self-care.
Set Goals As A Family
A great way to adjust is to set your goals at the start of the year. Setting a New Year's resolution as a family can be a motivating way to think about what everyone wants to accomplish in the year ahead in your new home. Resolutions should be specific and measurable. You could also encourage your child to try and reach a new goal each month. As you talk about this as a family, let your child(ren) set the goal so that the motivation comes from within.
Your Winter Gear Checklist
Winter coat (the longer, the better!): Columbia, Canada Goose, The North Face, Eddie Bauer, Patagonia
Winter boots: The North Face, Sorel, Timberland, Hunter, Bogs
Water-resistant winter gloves and mittens
Winter hats: Love Your Melon, founded by Zach Quinn '11
Warm, long-lasting socks: Hippy Feet, founded by Sam Harper '12
Insulated food/beverage containers
Various outdoor gear and equipment: Askov Finlayson, where Adam Fetcher '02 led the company's climate policy initiative, "Keep The North Cold"
A car with all-wheel drive
Warm blanket to keep in your car in case of a winter emergency

Windshield wiper brush with scraper
Helpful Terms & Tips
Snow emergency: declared after a snowfall of more than two inches. In case of a school closure, MPA will send an email, text message, and phone call to your phone number on file.
Snow route parking ban: A temporary parking restriction on roads designated as snow routes.
Wind chill advisory: wind chill temperatures can be dangerous with prolonged exposure
Indoor recess: MPA stays indoors at -10 degrees windchill
Winter Storm Warning: hazardous winter weather in the form of heavy snow, heavy freezing rain, or heavy sleet
Minnesota Hotdish: A Minnesota staple meal guaranteed to warm you up!
Quiz Yourself
Answers below!
What does the term "hygge" mean?
a) a snowfall of more than two inches
b) warmth and cozy comfort as antidotes to the cold and darkness
c) a New Year's resolution
What season(s) do MPA students have outdoor recess?
a) fall and spring
b) only fall
c) fall, winter, and spring
What winter gear company was founded by MPA alum Zach Quinn '11?
a) Love Your Melon winter hats
b) Hippy Feet socks
c) Patagonia
1. b
2. c
3. a