December 15, 2022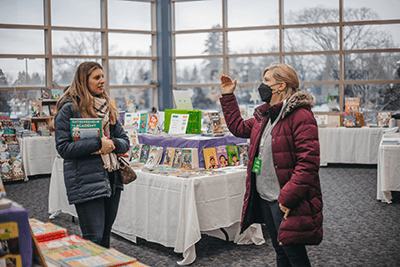 Thank You!
A big thank you to everyone who made this year's Book Festival a success. We raised over $3500 for the library, donated over 100 books to teacher classroom libraries, and enjoyed a week of celebrating reading. It would not have happened without the generous support of MPA families, as well as the time and energy of our volunteers. We appreciate you all!
Success
Another successful year wrapping gifts for MPA Faculty and Staff. Parent volunteers turned out to share community and work together to wrap 221 gifts brought in by 20 MPA staff members. It was a real team effort but we got it done. A special thank you to all our parent volunteers who joined us in the PCR.
Help Plan Middle School Snow Tubing in 2023
Snow Tubing is coming back! This super fun all MS event is in the works. We're looking for volunteers to plan the event. Planning meetings will start after Winter Break. To get involved, email info@moundsparkacademy.org. Save the date, Thursday, February 16.
Community Events
Snowshoe Evening at Seven Vines Vineyard: January 21, 6 PM
Back by popular demand! Enjoy a brisk evening snowshoe walk through Seven Vines Vineyard. Tickets are $55 per person and that includes snowshoe rental (and help putting them on), a drink ticket for a glass of wine or fancy coffee, several rounds of Bingo with prizes, and live music. It is a great evening out! To RSVP, Venmo @Staci-Banks-Hehenberger with the name of the event and number attending in the comment line.
Calling MPA families who work in Health Care!
A new student club, MPA HOSA, is in need of your assistance! This year, MPA was introduced to HOSA, an international student-led organization that provides aspiring high school health professionals with an opportunity to learn and enhance their knowledge regarding the science and equity of the medical field. As a new developing club, we would love your support in helping our chapter and program flourish. It would be a wonderful opportunity for parents involved in any aspect of the medical field to come in during one of our scheduled meetings and share their experiences as healthcare professionals. We would greatly appreciate your perspectives, input, knowledge, and advice. Click here for a survey for any parent who is interested.