December 8, 2022
'Tis the season for holiday shopping. The Alumni Association Board developed this for graduated MPA students to share their business/products to be featured in an Alumni Holiday Shopping Guide!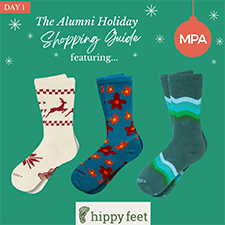 Monday—Hippy Feet
Why buy Hanes when you can buy Hippy Feet?! @hippyfeetsocks, co-founded by Sam Harper '12, are sure to be a hit this holiday season. These fun patterned socks, clothing and accessories are sure to be the perfect stocking stuffer. Plus, Hippy Feet is a socially responsible sock company on a mission to help homeless youth. 50% of company profits are donated to support non-profit organizations that are working to help young people in need. Learn more at www.hippyfeet.com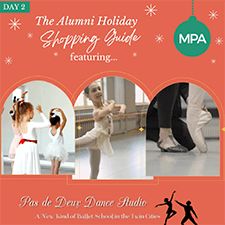 Tuesday—Pas de Deux Dance Studio
'Plie' your way into 2023 with Pas de Deux Dance Studio, owned by Zachari Wetz '99! Give the gift of dance lessons this season! Offering ballet classes for ages 3 through adult. @pasdedeuxdancestudio's mission is to develop a love of dance in a supportive and family-friendly environment. Convenient to most areas of the Twin Cities- contact the studio to purchase a gift certificate or sign up for classes. Learn more at www.pasdedeuxdance.com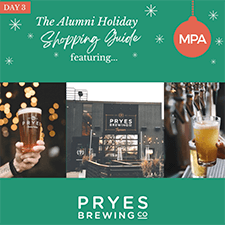 Wednesday—Pryes Brewing
Keep your eye on the Pryes… @PryesBrewing that is! Owned by Alan Flinn '93, Pryes Brewing Company is serving up award-winning craft beers and wood-fired pizza in their riverside taproom just north of downtown Minneapolis. A great place to hang with friends or give the gift of a few crowlers!! Pryes' riverside beer garden, taproom, and pizza restaurant open daily at 11 AM. Learn more at www.prysebrewing.com
Thursday—Talisman & Co.
Rooting for your team in the World Cup? Or perhaps still gutted about Team USA's loss? Either way, celebrate your team with @TalismanCaps. Founded by Bethany Branan, '97 and her husband, former professional soccer player, Dustin Branan, Talisman & Co offers high-end, quality-made caps and gear to help you support and celebrate your favorite soccer team. Check out all of their great products by visiting www.talismancaps.com
P.S. They sell gift cards too!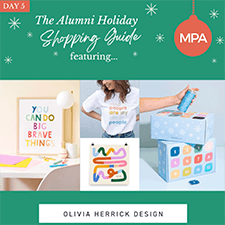 Friday—Olivia Herrick Design
Olivia Herrick Design is a MN-based studio specializing in logo, golf, packaging and pattern designs. Dreaming up a new project? Let Olivia, class of 2006, help you bring your idea to life with elevated designs and branding! Plus, check out OHD's cute shop where you can find motivational and uplifting t-shirts and museum-quality posters! Visit www.oliviaherrickdesign.com to learn more!