February 24, 2022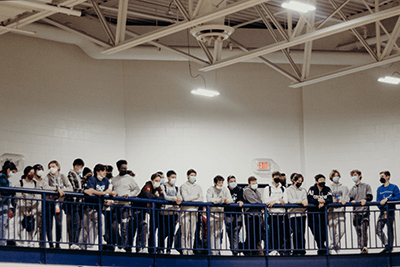 from Mark Segal, Upper School Director
I pledged years ago that I would never be one of "those parents." I had heard, read about, and as an educator witnessed the parents who re-experienced their own childhood successes through their children. This was especially true in athletics where the notorious stories of Tiger Woods' father, Earl, and other like him filled my memories. Even though my son received his first set of (plastic) golf clubs for his first birthday, I did all that I could to allow him to carve his own path and find his own interests as he grew older.
A recent article in the Atlantic, "Let Your Kids Be Bad at Things," shares the story of a parent who found their "compulsive overachieving core as a parent" come out as they worked with their child to perfect a choregraphed dance and singing number at an elementary talent show. The parent shared their own internal battle of not wanting to upset the other parents or the children, theirs included, by being overbearing and demanding about the performance. While at the same time wanting the performance to be crisp and well done. They explained, "you go from wanting one tiny little thing to wanting everything–for your child, for you, and for everyone who witnesses the group's performance." Through the trials and tribulations, the parent recognized that the children's performance was not reflective of who they were as a parent, but rather reflective of who their child was as a child.
This was confirmed in a recent article in the Chronicle of Higher Education where the authors, Else-Quest, Sathy, and Hogan, share that "compassion and kindness are foundational to effective teaching (and parenting)." As much as we want our children to be perfect at school, sports, dancing, singing, and all of the other opportunities we provide them, it is just not reality. Therefore, they continue, instead of expecting themselves to do everything perfectly, the students should aim to do them pretty well and receive the grace and support of those who love and care about them the most.
I have found over the past 28 years in the education field, and the past 13 years as a parent that it is hard to back off and lessen our hopes and dreams for our children. We need to, however, focus on setting appropriate expectations for ourselves and our children to focus on what really matters and preserve the relationships that mean so much to us.
I know, as a parent and educator, that this is not easy. As shared earlier, my son received his first set of golf clubs as a one year old, and I have visions of him one day playing on the PGA Tour. Until then, I know that he will double-bogey some holes and miss plenty of three-foot putts. I am also resolved that sometimes good enough is just that.
I look forward to seeing you on campus soon.
Important Information
We're excited for the 2022 MPA Spring Auction: Let's Dream, which will be held on Friday, April 22 at A'bulae in Lowertown. This is an opportunity for our entire community to gather safely together and celebrate the year. The event will feature an amazing meal, fun games and prizes, and the chance to bid on and win wonderful auction items, all in support of the MPA community. The event raises more than $200,000 in support MPA students, staff, and teachers. 

Sponsorship packages and tickets are available now! 

We're also in need of a variety of auction items including gift cards, baskets, experiences, and more! No donation is too small. Click here to view the 2022 Wish List. 

The auction planning committee also invites you to attend our event preview at drop-off or pick-up time on Thursday, March 24! Join us from 7:15-9 AM or 2-3:30 PM in the Family Commons to learn more about this year's auction, meet fellow parents, and enjoy snacks and drinks. For new families especially, this is a wonderful opportunity to connect with other parents and learn about what to expect when you attend.

Thank you to our volunteer committee: Karen Chan, Rebekah Cook, Sarah Cotter, Lucia Gray, Amy Kotch, Tara Lafferty, Jennifer Macdonald, Amy Minear, Renee Roach, Mindy Ruane, Kelley Still, Leslie Todero, and Lisa Vale. 

Please contact Jennifer Rogers-Petitt, director of development and community engagement, via email at

jrogers@moundsparkacademy.org

or at 651-748-5532 with any questions.

If your student will be absent, late, or needs to be excused early from school, please reach out to Rachel Westmoreland by email at rwestmoreland@moundsparkacademy.org or phone on 651-748-5544
As we continue to navigate the ongoing challenges of the pandemic, we ask for your diligence in working with our Covid-19 symptom response and contact tracing team. At the first sign of symptoms, parents should complete the daily AUXS app symptom screening and/or email covid@moundsparkacademy.org. This should happen BEFORE seeking a Covid-19 test. When a negative Covid-19 test is required for student clearance, results must be provided prior to the student's return. All symptomatic community members, regardless of vaccination status must remain at home pending those results. Thank you for your partnership. For any questions, please contact Jennifer Rogers-Petitt at jrogers@moundsparkacademy.org.
Looking Ahead
Tuesday-Friday, 2/22-25: SnoDaze Week
Friday, 2/25: SnoDaze Dance, 8-11 PM, Upper School Commons
Tuesday, 3/1: Upper School Choral Concert, 7:30-9 PM, Nicholson Center
Monday, 3/7: Spring Break Begins
Monday, 3/21: Classes Resume
Tuesday, 3/29: Quarter 3 World Language Final Exams, in scheduled class
Wednesday, 3/30: Quarter 3 World Language Final Exams, in scheduled class
Thursday, 3/31: Quarter 3 Science Final Exams, 8:45-10:15 AM
Friday, 4/1: End of Quarter 3
Friday, 4/1: Quarter 3 Math Final Exams, 8:45-10:15 AM
Friday, 4/1: Quarter 3 Social Studies Final Exams, 12-1:30 PM
Monday, 4/4: No Classes, Professional Development
Tuesday, 4/5: Quarter 4 Begins
Friday, 4/22: MPA Spring Auction: Let's Dream, 6:30-10:30 PM, A'bulae