March 3, 2022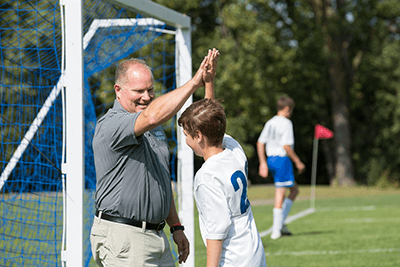 from Dan Haase, Athletic Director
One Thursday per month you will see a guest Head's Message from a member of the Institutional Advancement Team. We hope these additional perspectives will help you catch a glimpse inside the innerworkings of your school.
At Mounds Park Academy, we believe athletics complement the total academic experience and development of the student. Students learn a great deal from their participation in interscholastic athletics. Concepts such as teamwork, sportsmanship, leadership, self-confidence, self-esteem, and developing a healthy body are all vital components of our Upper School athletic programs.
Athletics at MPA strive to provide an opportunity to all students to discover their interests, improve their skills, and have fun enjoying the activity with their friends. To accomplish this, MPA practices a no-cut policy in all athletic programs. A no-cut athletic policy allows inclusion to all interested students who would like to become a member of a team. Teams are established based on the interests and registrations of each of our programs.
MPA is proud to offer 23 Upper School athletic offerings for students in grades 9-12 and is a member of the Minnesota State High School League (MSHSL). The MSHSL provides uniform and equitable rules for students in extracurricular activities, and they promote, manage, and administer athletic programs for students at members schools on a Subsection, Section and State level.
MPA is also a member of the Independent Metro Athletic Conference (IMAC). The IMAC consists of six mission-driven independent college preparatory schools. The IMAC conference was formed in 2014 based upon an agreement with the Blake School, Breck School, Minnehaha Academy, Providence Academy, and St. Paul Academy. The conference was formed in the interest of keeping an appropriate perspective on the role of athletics in secondary education.
This year, MPA will sponsor 30 Upper School athletic teams for Upper School boys and girls. Ninety percent of the Upper School student body participates in one or more athletic programs throughout the school year. We will compete in 375+ contests (games, matches and races) this year alone. Our teams and athletes are consistently representing small high schools in all Minnesota State High School League sponsored tournaments. This year, we have participated in the State Tournaments in Cross Country, Volleyball, Alpine Skiing, and Nordic Skiing. I feel very confident will have more Panther representation in State tourneys this spring!
MPA is a special place that provides you unlimited opportunities. Whether in the gym, on the fields, or on the stage–opportunities are waiting for you. Take sophomore Jay Green for example. He is a four-sport athlete who plays football, basketball, golf, and track. He also participates in concert band, concert choir, Madrigal singers, and jazz ensemble while maintaining high academic standards. Seeing Jay have success and thrive in all these arenas is what MPA is all about. This is what I am most proud of as a leader in our building: You get to be a student. You get to be a musician, you get to be an actor, you get to be an athlete, you get to be you!
Jay is just one on many students I have seen over the years who has taken advantage of all opportunities offered at MPA–he can do it all. Most other high schools will not allow you to do all. They limit your choices and make you choose between athletics, music, or theatre.
I challenge every student to participate in as many activities as they can while here at MPA. MPA is small school, and participation is especially crucial to the survival of our programs. I encourage students to try a new sport, become a two or three sport athlete, try something different because they have a friend on a team. These opportunities or support is not found in other schools. This is what makes MPA great and separates us.
Go Panthers!