May 26, 2022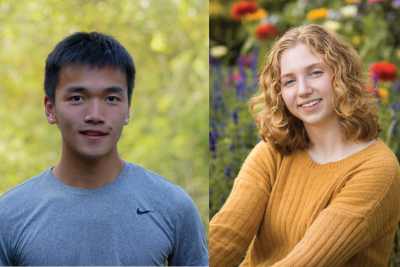 Congratulations to Elissa Frankel and Ruihan (Leo) Yu, recently announced as winners in the 2022 National Merit Scholarship Program! Elissa and Ruihan (Leo) entered the scholarship competition when they took the PSAT as juniors in October 2020 and scored in the top percentile. This past fall, they were among 16,000 Semifinalists chosen nationwide state-by-state, based on their scores relative to other Minnesota students. After submitting a substantial scholarship application and supporting materials from MPA, they were chosen as National Merit Finalists this winter.
Elissa is one of only about 1,000 students nationally who will receive a corporate National Merit award. Corporate sponsors provide National Merit Scholarships for Finalists who are children of their employees, who are residents of communities the company serves, or who plan to pursue college majors or careers the sponsor wishes to encourage. Elissa will take her scholarship, sponsored by 3M, to Case Western Reserve University in Cleveland, Ohio, where she plans to major in neuroscience. At MPA, among other things, Elissa sang in Concert Choir and Madrigals, led the Social Consciousness Club in discussions of national and international subjects, initiated a voter registration drive, and co-captained the girls varsity soccer team.
Ruihan's scholarship is funded by the National Merit Scholarship Corporation. He is one of only 2,500 Merit Scholar designees from across the country, assessed by NMSC to have the strongest combination of accomplishments, skills, and potential for success in rigorous college studies. Ruihan (Leo) will attend Claremont McKenna College in Claremont, California, where he plans to study economics and philosophy. Ruihan (Leo) also is a strong advocate for the liberal arts at MPA, co-leading the STEM Education Club over the past four years, playing cello in the Orchestra and keyboards in Jazz Ensemble, serving on Student Council and competing with MPA's varsity baseball team.
We also congratulate the following MPA graduating seniors who scored well on the PSAT as juniors and were recognized by National Merit as Commended Students: Skyler Burnett, Rohit Iyer, Kaija Kunze-Hoeg, and Ruby Schwieger.