May 5, 2022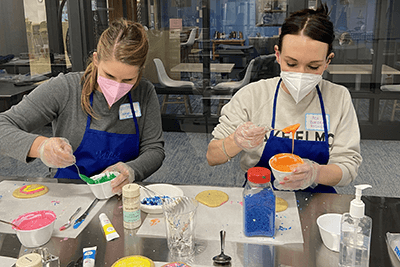 Thank You!
A huge thank you to everyone who set up, baked, decorated and delivered cookies to all MPA staff on Tuesday, May 3. The Teaching Kitchen was full of volunteers and the sweet smell of freshly baked cookies in celebration of National Teacher Appreciation Day. All employees could grab a cookie or two during lunch and sign up to get a small box delivered to them later in the day. Most boxes had a heart shaped window to go with the National Teacher Appreciation theme, "Teaching is a Work of Heart". Again, thank you for joining the Parents Association in this event giving back to our MPA staff. – Bakari, attached are a couple of photos if you can use them
Gardening at MPA is Back!
Thursdays at 8 AM
Calling all those who want to spend some time outside, at MPA, in the gardens! You're invited to spend time in the gardens tidying up, building, sowing, and spuddling around in the dirt. Come for a few minutes or stay for an hour or two. All are most welcome. We'll meet outside under the flagpole at the Lower School entrance, with gardening tools in hand!
Vote for Next Year's PA Board
The Parents Association (PA) is an organization formed by and for the MPA parents. Every family is automatically a member and eligible to vote. Please vote for the Executive PA Board for 2022-23 here!
We are also seeking volunteers for the 2022-23 school year. Please consider getting involved. It's a great way to meet the school community, show our appreciation to faculty and staff, enrich our children's school experience, all while making new friends and seeing old ones. A willingness to help is the only experience needed. New families are especially encouraged as it's a great way to get to know your fellow parents. If you are interested in getting involved or have any questions, please contact Staci Banks Herberger (sbhehe42@icloud.com).
Ballot
Co-Presidents: Christine Larson and Staci Banks
President Elect: Michael Soto
Secretary: Seema Anwar
Treasurer: Adi Boeder Risner
LS Division Lead: Michelle Mick
MS Division Lead: Michelle Mick
US Division Lead: Julie Bixby
Communications: Susan Knapp
Community Development Lead: open