July 13, 2022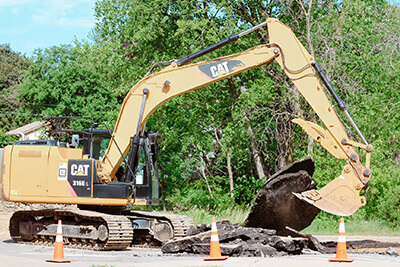 If you've been on campus lately, you've probably noticed something different about MPA's pond–and not just the seasonal algae. This summer, the pond is adorned with trucks, cranes, bulldozers, gravel, and boulders. We have an exciting update about all of this action and commotion around our beloved outdoor learning lab.
MPA has a long-standing partnership with the Ramsey-Washington Watershed District. Several times per year, they visit our Upper School biology and environmental science classes for lessons regarding the health, importance, and sustainability of water. Many of these lessons use our campus pond as the source of their research and data collection. This summer, we are ecstatic to be continuing our work with them to embark on improvement project for our campus pond, supported by the Watershed District themselves. One of our amazing alumni, Andrea Wedul '95, is the architect who designed this renovation for us. With the help of Andrea, the Watershed District, and the vibrant ecosystem of the pond, this initiative will enhance a signature space at MPA to become a more advanced and accessible outdoor classroom.
Currently, the renovation crew is removing a row of parking spaces from the west lot to install filters and extend the growth of native plants in that area. This will help protect our pond from harmful runoff throughout every season. We are still in the early stages, but are loving the progress taking shape right before our eyes! See the action for yourself here!