January 24, 2023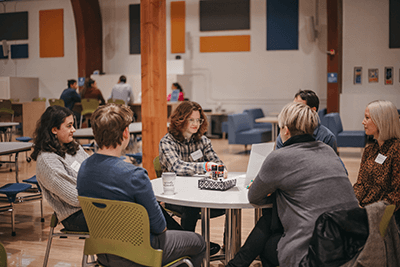 After a successful Alumni Meet & Greet event, MPA seniors and alumni mentors submitted their meaningful experiences and connections formed through the MPA Mentorship Program. Community members gathered in the Family Commons and connected based on similar interests, hobbies, career goals, and college choices. See all of the photos from the networking event here!
Pairing curious and inquisitive students with adults that have experience in their field of passion is an invaluable way to provide insight. This especially applies to students seeking to get a more detailed sense of a profession, college, or industry's nuances. William Tan '23 explains, "this program really helped me gain new perspectives on the transition between undergrad and medical school. I also picked up many great tips to help me with college. While I have heard more generalized perspectives regarding undergrad in the past, it was nice to hear about a more focused experience regarding the career I want to pursue. Knowing I will be starting this path next year, it was nice to hear a perspective from someone who has already experienced college."
This program is just as enriching for our alumni as it is for our current students as well. Pranay Somayajula '18 expressed that "because my younger brother is still at MPA, I know that the school has changed a good deal since I graduated in 2018, and I'm really glad to know that those changes have included programs such as this one, which I certainly would have found very valuable had it been around during my time. I wanted to be a part of that for a current student. The best part of this program for me was the knowledge that the current crop of MPA seniors continues to exemplify MPA's mission of 'dream big, do right'—I loved hearing about Zoe's commitment to environmental and social justice, and her interest in exploring college majors and career paths that would allow her to combine that commitment with her other passions."
The Alumni Mentorship Program truly serves as a tool to ensure our current students begin the next phase of their educational journey on the right foot. The support, direction, and community that is gained from a mentor experience is a resource that never expires. Byron Nilsson '07 recounts his reason for participating in this experience, "I would say that the connections made at MPA nearing graduation are what made me participate in the mentoring program. Señora Kunze, who was my Spanish teacher more than 15 years ago, reached out through my best friend's mom because she remembered what college I attended, after a current student applied to the same college. I think that reflects really well on MPA and its teachers, and because of that, I was more than willing to participate and help."
Byron also explains how expanding your circle of influence can be beneficial when dealing with big decisions like college. "I think the program is a great chance for students to get perspective from someone other than their teachers, friends, and family. Choosing a college can be such an intense process and being able to speak to someone who is removed from their immediate personal situation and hearing their perspective on a college or university could help a student focus on what really matters when making a decision."
Cynthia Ghannoum '23 summarizes the program as a beneficial and enriching experience. "This time of year as a senior is odd—a lot of big changes and decisions are happening with colleges and admissions; having someone who went through that same process and has a reached their goals is very inspiring and comforting for someone hoping to pursue the same route."
Please reach out to alumni@moundsparkacademy.org for any questions and to get involved!