January 30, 2023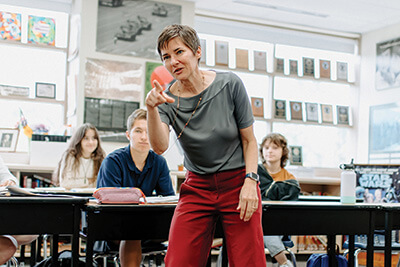 By definition, a free spirit is an independent person. And at MPA, we teach kids to think independently–by setting the example for them. MPA teachers are free spirits themselves, equipped with a community of support behind them. When asking teachers what their favorite part about teaching at MPA is, we often hear a trait that they say is very unique to MPA: the freedom of teacher autonomy.
There's a lot that makes MPA teachers amazing, memorable, and impactful. But their autonomy to be creative and collaborative allows them to not only adjust their lessons to fit the ever-changing world, but to ensure that their students are enjoying what they're learning. In MPA's early years, the first batch of teachers shared a common vision around creating a different type of school and learning environment for children. Our founding faculty wanted to teach at a school that would foster their own collaborative spirits as well as their students'. They began working together to design a cohesive curriculum, and this early emphasis on collaboration among faculty set the foundational groundwork for teacher autonomy at MPA today.
Free Spirits Know Their Students
Teacher autonomy applies to all disciplines at MPA and is highly valued by teachers and administrators alike. In order to work, it relies on trust and the understanding that MPA teachers are professionals who know their students best. Knowing our students is one of the hallmarks of a Mounds Park Academy education, stemming from our commitment to small class sizes.
Upper School biology teacher Mitch Thomsen can attest to this. He appreciates that each lab, project, and lesson can be customized to fit his students' highest possible growth and potential. "The small size makes it easier to communicate with colleagues and to help ensure that no student gets lost in the shuffle," he remarks. "I like that I am in charge of my budget and the chance to obtain materials, in the right amounts, to maximize the learning from each lab."
At MPA, classes are significantly smaller than those at most other Minnesota schools–MPA's average class is 15 students, compared with the Minnesota public school average of 27. Diving deeper, MPA's student-teacher ratio is 7:1, compared to the state average of 16:1.
Fewer students in a class and the flexibility that comes with teaching at an independent school means that faculty can incorporate dynamic lessons, complete with real-world relevance, to powerfully engage their students. It creates a very personal and relevant experience for them. "As I write my quizzes, I find myself reflecting on how well I already know them from years of working together, and how I can tailor exams to fit their interests. I have the time and freedom to write curriculum and assessments that meet them where they are and engage them more deeply," world language teacher Jess Blue says.
Free Spirits Take BOLD Steps 
In order to prepare students to live, learn, and thrive, MPA believes it is imperative to reimagine education by meeting the needs of tomorrow through curricular innovation. But innovation is not just doing something new; it is looking for continuous improvement. In curriculum, that means adopting different designs for learning to help make learning even more meaningful for our 21st-century learners.
MPA's BOLD Innovation program is bringing initiatives to our classrooms that enrich the culture and learning at MPA for students and faculty. The BOLD approach, Building Opportunities for Learning Distinction, was implemented to spur collaboration, interdisciplinary approaches, and innovative curricular or programmatic initiatives. The purpose is to encourage curriculum development and experimentation. The outcome is that students will grow and thrive throughout their time at MPA across all three divisions.
Teachers are embracing the autonomy to "dream big" as they reimagine personalized pathways of learning for students through curricular innovation while leveraging advances in educational technology. On designated BOLD professional development days throughout the school year, MPA teachers are reflecting, sharing, thinking critically, and generating new creative interdisciplinary, problem, and project-based lessons, activities, and courses.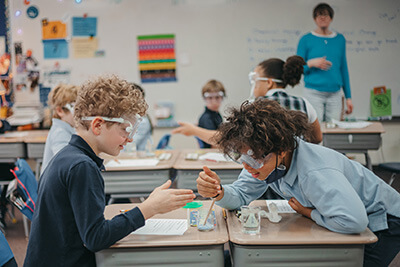 Free Spirits Celebrate Creativity
In order to enrich the education of her Lower and Middle School MPA students, Spanish teacher Maria Jose Johnson wholeheartedly believes in teacher autonomy as a way to spur creative freedom. "MPA inspires students who dream big and do right by promoting flexibility and creativity in the curriculum, and really encouraging extracurricular activities with the no-cut policy," she says.
When it comes to taking a creative approach to a lesson, Lower School French teacher Liz DesLauriers trusts the needs of her students and values the freedom to follow their lead. "If a particular group seems curious about something I will change up my plan and tailor it to what they are interested in. For example, I had a group particularly interested in the geography of France. It was only mentioned briefly in a lesson, but they showed curiosity and interest in it, so I'm going to head in that direction. We are now making maps and discussing different cities and landmarks." She guided the children to achieve the same learning objectives she had originally intended, but by following the natural curiosity of her students.
"MPA teachers and staff don't shy away from tough issues, instead posing them as discussion topics and guiding students in thinking through them critically and empathetically to arrive at conscientious, thoughtful opinions," adds Sarah McFarland, Middle School English teacher.
MPA teachers and their curriculum stay varied and ever-evolving. How each teacher writes their lesson plan is as unique as their own DNA. MPA students get an educational experience unique to anywhere else.
This is part of a special story series where we profile Dreamers, Doers, Freethinkers, Free Spirits, and Right Makers in the MPA community to inspire one another. Do you have an impactful story to share? Email communications@moundsparkacademy.org.