February 15, 2023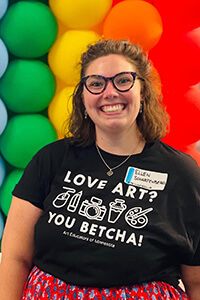 How long have you taught at MPA?
I came to MPA in the fall of 2021. I was looking to move back to the Twin Cities area after having taught elementary art in rural Wisconsin for four years to be close to my family.
What's the best thing about being a teacher at MPA?
I think the best thing about being a teacher at MPA is the wonderful people that I get to work with. Not only are the faculty and staff at MPA truly amazing teachers and professionals, but some of my closest friends.
Describe your typical day. 
My typical day at MPA begins with prepping art materials for my classes that morning and probably talking to Ms. Mastel across the hallway. I usually teach three Lower School classes in the morning, followed by a great lunch by our Sage staff. I always try to take time to eat and connect with my colleagues. After lunch, I either help with Lower School lunch or recess and teach two more afternoon classes.
Do you have a favorite lesson to teach?
I think that one of my absolute favorite lessons to teach is the second grade fall cabin project. This lesson is a great way for second graders to practice using a one-point perspective and learn about the other elements of art such as space, overlapping, and making objects smaller as they get farther away.
What do your students teach you?
My students teach me so much about what children can do and understand. They truly have the biggest hearts and most open minds, and are the best people to work with every day. My students show me that there is goodness and hope in the world.
How does MPA inspire students to dream big and do right?
MPA inspires and challenges our students to dream big and do right through the experiences that we provide for them. I always work to support my students in all areas of their life, not just in the art room, and to connect with them and their dreams. I want to teach my students how to use their voices as artists and that their voices have meaning and power.
If you have worked at another school, how has your experience at MPA been different?
I am thankful for the time and resources that MPA provides me so that I am truly able to do my best work and not have to bring my work home with me. I am able to focus on my curriculum and students' needs more here.
What are you currently reading? 
"I Thought It Was Just Me" by Brené Brown
Complete any or all of these sentences:
One thing I want my students to know: is that you should always be yourself!