February 23, 2023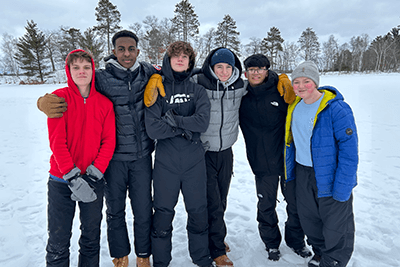 from Mark Segal, Upper School director
Looking Ahead
February 23: Upper School Band & Orchestra Concert, 7:30-9 PM, Nicholson Center (postponed)
February 24: Upper School SnoDaze Snow Tubing, 4-7 PM, Green Acres Snow Tubing Lake Elmo
February 25: Grades 7-12 PlayMo Diorama Competition, 12-2:30 PM, Makerspace
February 27: Upper School Band & Orchestra Concert, 7:30-9 PM, Nicholson Center
February 28: Dessert & Dialogue, 6:30-8 PM, PCR
March 1: Upper School Vocal Concert, 7:30-9 PM, Nicholson Center
March 3: Spring Break Begins at 2:50 PM
March 20: Classes Resume at 8 AM
March 25: Grades 7-12 PlayMo Diorama Competition, 12-2:30 PM, Makerspace
March 28: World Language Final Exams, during World Language classes
March 29: World Language Final Exams, during World Language classes
March 30: Science Final Exams, 8:45-10:15 AM, Various Locations on Campus
English Final Exams, 12-1:30 PM, Various Locations on Campus
March 31: Math Final Exams, 8:45-10:15 AM, Various Locations on Campus
Social Studies Final Exams, 12-1:30 PM, Various Locations on Campus
April 3: No Classes, Professional Development Day
April 4: Quarter 4 Begins
I realize that what I am about to share may be an unpopular opinion. Winter is my favorite season! As an avid alpine skier, the thought of a fresh snowfall brings a huge smile to my face. There is, however, another side of winter that I dislike. Even though I have lived most of my life in the Twin Cities, my family and I have never invested in a snow blower and are reliant on a sturdy shovel and our strong backs. With the recent winter storm this week, I found myself outside with my trusty shovel in hand. Even though it was cold and there was a stiff breeze blowing from the north, there was something peaceful about being out there. A 2016 University of Kentucky study found that, "snow has acoustical properties which absorb sound – up to 60% of noise." This quiet, in the middle of a winter storm, has a positive impact that can help us feel calm and centered. According to the University of Sussex, "the peacefulness of the snow also helps us focus in on the sounds of the breeze, the breaking of a branch or the pitter patter of a small animal—and when we hear the sounds of nature, our brain activates the centers which control rest and relaxation." I realize I may be making lemonade out of lemons, but when looking at the work and expectations that upper school students (faculty and administrators, too) are managing in the weeks leading up to Spring Break, I see time clearing our driveways as beneficial to our mental and physical health. So, when things are hectic, and a little serenity is what each of us needs, shoveling snow can be just the solution we seek.
I look forward to seeing you on campus soon,
Mark
Important Information
If your student will be absent, late, or needs to be excused early from school, please reach out to upper school administrative assistant Chanda Williams at cwilliams@moundsparkacademy.org.
Please join other upper school parents on Tuesday, February 28 from 6:30-8 PM in the PCR for Dessert & Dialogue. This is a great opportunity to engage in conversation with other upper school parents, learn about recent MPA happenings, and to ask questions of Mr. Segal. Please reach out to Julie Bixby (juliebixby1@gmail.com

) to RSVP for this gathering.

The latest edition of the MPA Upper School online newspaper, the Freethinker, is available. Please take a moment to see what's new here.
Spring Break is a wonderful time for upper school families to check in with their students to ensure that they have the materials they need to prepare for the final exams scheduled for the week of March 27. Please find above in the Looking Ahead calendar the schedule for quarter 3 final exams.