March 2, 2023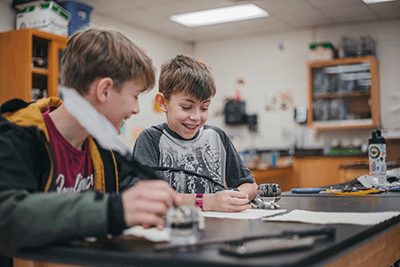 from Bill Hudson, head of school
I was away from school last week, attending the National Association of Independent Schools annual conference held in Las Vegas this year. I have to admit that it was a bit surreal. While the conference center was first-rate, staying in a hotel casino was disconcerting. At the risk of sounding like a fuddy-duddy (even using the word makes me feel like I should be a patient of Dr. Rick in the Progressive Insurance commercials), the noise level, the smoking, and gambling were discombobulating (more evidence I need Dr. Rick's help).
However, the conference itself was very good. Independent school heads of school and educators from around the country gathered to learn, share best practices, and celebrate independent schools. There is much to celebrate, including record enrollment, academic innovation, and student success. There is also much to be concerned about. Social polarization, political acrimony, the "Great Resignation," the lingering effects of the pandemic on learning, parental angst and anxiety, and the increasing accessibility of artificial intelligence are all negatively impacting the academic, social, emotional, and mental well-being of our children.
The news is not good. The Center for Disease Control (CDC) Division of Adolescent and School Health (DASH) recently released the results of their biannual Youth Risk Behavior Survey (YRBS). Forty-two percent of high school students report that they "experienced persistent feelings of sadness or hopelessness during the past year," up from 36.7% two years ago. Females and gay, lesbian, and bisexual youth are struggling the most, although increases across all racial and ethnic groups worsened also. While there are many reasons to explain the worsening of the mental health of young people, the internet and social media seem to have the most significant effect.
The good news is that the solution to the rise in mental health challenges of our young people is rather simple: conversation, connection, and community, all of which are at the core of Mounds Park Academy. Faculty and staff are genuinely interested in the lives of our students and make time to truly listen to them. We do not shy away from engaging our students in conversation around current events and it is important to openly discuss topics such as social and emotional well-being, depression, and anxiety. We continue to increase counseling services and provide suicide awareness education and conduct suicide screenings for Middle and Upper School students.
Faculty have been hard at work this year creating standards to drive curriculum integration and innovation in social-emotional learning, digital and mediate literacy, and equity and belonging across grade levels and divisions. We are prioritizing digital wellness as an integrative approach to addressing the academic, social, emotional, and mental well-being of our children. Beginning after spring break, MPA will begin a pilot program in grades five and seven to nurture digital wellness. We are partnering with the Social Institute to "empower students to navigate their social world—social media and technology—to fuel their health, happiness, and future success." If successful, the program will expand to other grade levels.
At MPA, we know that fostering connections with our students and parents is crucial to academic success and personal growth. Small class sizes provide ample opportunities to build relationships, challenge our students, and ensure they are known and cared for. In a quote from a recent New York Times article, "Young people who feel connected in middle school and high school 20 years later have better mental health, are less likely to be perpetrators or victims of violence, are less likely to use substances and are less likely to attempt suicide," Dr. Ethier said. "So school connectedness is a very powerful protective factor."
Creating a safe and inclusive community is at the heart of our mission. The research is clear that only when students feel safe, valued, and heard can they exceed academically. The school day is intentionally structured to make time available for Lower School morning meetings, Middle and Upper School advisory classes and seminars, and cross-age pairing assemblies, all of which build community. Our wonderful Parents Association, together with the school, focuses on building relationships among parents. Parent engagement at school further strengthens our students' sense of belonging and community.
According to the CDC YRBS, more than 95% of children and adolescents in the U.S. spend much of their daily lives in school, providing a considerable opportunity to foster the knowledge and skills to shape behaviors and experiences, but also the responsibility to ensure that all learning is done in a safe and supportive school environment. I am exceptionally grateful for the strong partnership that exists between parents and the school. The troubling increase in sadness, anxiety, and depression of our young people is not something we have to accept. Together, we can reverse this trend.