March 13, 2023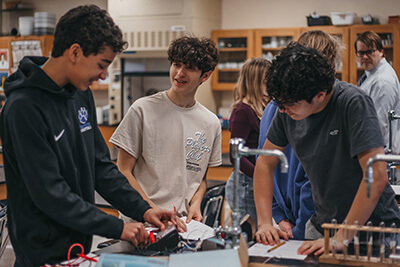 With spring around the corner, private schools all around the country are in the thick of their own season–admission season! Here at MPA, decisions are released on March 24 and the enrollment deadline quickly follows on April 7. This means families are currently facing a decision, and sometimes that decision can be difficult. So with the help of our community, we collected a list of ten things families should consider when deciding on a private school.
1. Your Community
When choosing a school, you're not looking for a community just for your children, but for yourself and your entire family.
The MPA community is robust. We are built upon shared values and firmly committed to freethinking, collaboration, diversity, and connection. Lower School parent Andrea Goldstein recalls her first impressions of MPA early in their school search. "We wanted a great school for the kids, but we wanted a space, community, and home for us as a family," she said.
She also noted how seamless it was to become part of the community after enrolling at MPA. Andrea began volunteering as an MPA Parents Association grade representative, finding the responsibilities to be a great opportunity to get to know people quickly and easily. "You don't have to put in that much to get a lot out of it," she said.
2. The Pedagogy
MPA's highly rigorous education does not challenge top students by piling on busywork, nor does it take away support and individual attention from a teacher, but rather by promoting and instilling a deep understanding of what they are learning. We deeply value purposeful academic rigor in a hands-on, experiential, college-prep environment.
Middle School parent KiJuan Ware is elated to see his daughter enjoying this type of learning environment at school, finding the balance of academics and extracurriculars, and constantly trying new things. "The Makerspace is where she is hands-on, doing what she wants to free her mind," he said. "There's a lot of discovery when it comes to learning, and homework reinforces comprehension."
3. Areas For Growth
Natalie Waters Seum, director of admission and communication at MPA, says that this is such an important piece to consider when making your decision. "The things that we at MPA are transparent about working on are just as important as the things that we are already exceptional at," she said.
One of MPA's opportunities for growth–which is also a priority in the current strategic plan, 2024ward–is faculty and staff diversity. With nearly 40% of current MPA students identifying as students of color, there is an opportunity to have faculty that reflects the diversity in the student body.
Lucia Simon, an MPA Class of 2022 graduate, says she appreciates seeing MPA's other areas for growth fulfilled during her time as a student–namely, "Growth in resources for student mental health, stress management, and creating affinity groups for BIPOC students," she said.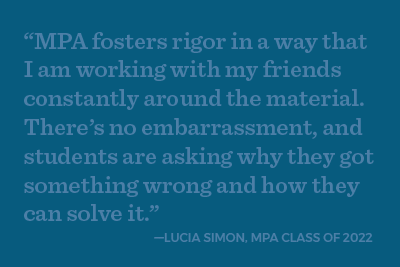 4. The Return On Investment
We have many excellent public schools in the Twin Cities, and families often ask what the value is in tuition at MPA. Matt Larson, a parent of three MPA students, says that it is "The array of opportunities that our children have had."
When Matt and his family were looking at where they wanted to invest over the next 15 years, education was at the top of their list. "We are prioritizing tuition in our budgets every single day," he said.
Families should look at the investment as a foundation for success in college and preparation to be successful, including building upon students' skills and interests. In addition to being prepared for life, Matt says that the relationship his children have with the school and their teachers are invaluable for their education at MPA.
"We want our kids to be seen and valued, and that is something we've realized in every way we've imagined," he says.
5. Class Size
At MPA, the average class size is 15, with a student-teacher ratio of 7:1. Small classes allow for more time in class, adding value through more ideas, perspectives, and voices. Lucia says that this was one of her favorite things about MPA.
"Having a small class size allows for so many more opportunities between students, teachers, and the material," she said. "Having been at a big public school before MPA, I definitely felt lost within big groups. I felt I was only regarded as whatever my grade was. That promoted a competitive environment to be in. I didn't feel seen as who I was. At MPA, I found amazing relationships where I can be myself and what I bring to the classroom."
When classes are small, teachers are able to form relationships not just with a student, but with their parents, too. Teachers quickly recognize the things parents are trying to work and focus on at home, and can therefore reinforce them daily in the classroom.
6. College Preparation
At MPA, we take college counseling very seriously. It starts in ninth grade and walks students through the process every step of the way during their time in Upper School. MPA's college-going culture is based on each individual student's unique set of interests, priorities, and aspirations.
"It's really interesting to see the difference in how taken care of we are by our schools throughout the search. I don't have any need to go beyond MPA and find resources to help me because it's completely provided," recalls Lucia. "We have an actual class for juniors and seniors completely committed to the college search process."
When Lucia came to MPA, she was encouraged to apply early decision to help her get into her dream school–which she did. Not only was she ecstatic to have her top choice, but the entire process decreased her overall stress. "They know what you need and are here to listen and work with you," she said.
But the college prep and search process at MPA does not exist in a vacuum. Throughout the entire educational journey, MPA ensures that students develop skills for success in higher education. Confidence in their ability to communicate, give presentations, and work in teams is one of the key takeaways Matt Larson has seen from MPA graduates over the years.
"Their communication skills are developed every day, layered in, threading in practice opportunities. And by the time they graduate, they are some really incredible communicators. Not only are they learning things, but learning how to give voice to what they're learning and become articulators for themselves in the world around them," he said. "It is not enough to know things–you have to be able to communicate what you know and use it across disciplines."
7. Diversity And Inclusion
When prospective families ask how diverse the school is and whether it is inclusive of all families, we are proud to say that it is central to who we are as a community. Equity, belonging, and inclusion are a part of MPA's DNA. We find that because this attracts families with mission-aligned values in the first place, the commitment continues as our community grows. Our school environment is enriched daily by students and their families from around the world.
KiJuan chose MPA for his daughter because of the challenge, voice, and diversity she would find here. He recognized that the MPA community comes from all walks of life and different backgrounds and beliefs, and that she would have to learn to navigate that space. Learning about the differences in academic background, socioeconomic status, ethnicity, gender, race, religion, and sexual orientation promotes an environment of understanding and appreciation. "At MPA, she has the opportunity to do that," he reflects.
8. Collaborative vs. Competitive
Learning should be fun and inclusive, with no students left behind. At MPA, we value collaboration over competition. And as a student, Lucia says she benefitted from MPA's collaborative learning environment, which guided her to discover what she sought in a college as well because she thrived at MPA.
"MPA fosters rigor in a way that I am working with my friends constantly around the material.
There's no embarrassment, and students are asking why they got something wrong and how they can solve it," she says. "Teachers want to see you succeed and enjoy the material." Having a collaborative environment gives so much more space for that exploration without consequences.
9. Your Feelings
Making your school choice is going to be a very feelings-based decision that comes down to how you and your children feel when you're here. When asked how they feel when at MPA, Andrea, KiJuan, Matt, and Lucia said: Comfortable. Authentic. Energized. Hopeful.
When you come to MPA, you are so much more than just a number. You are a member of our community–part of the fabric of our school.
"I felt so seen as a new student," Lucia recalls. "Sometimes at smaller schools, you feel nervous because everyone already knows everyone else, but that is so far from the truth." She adds that it was "Amazing to walk through the halls and have teachers, students, and various people in the building ask how you're doing and being really genuine about it. That definitely adds to the energy of the environment."
10. Your Values
Do your family's values align with the school? Natalie says that this is the most important question you can ask of yourself and the school. By pondering these ten questions and knowing your own family, only you can answer this question best.
"Creating the whole person by educating ourselves, having school spirit, making sure we're educated spiritually, and taking care of our bodies is how we live as a family. MPA gave us the opportunity to educate our daughter academically and athletically, while being able to fit her schedule. We take care of educating her spiritually. That's what it's all about–it fits our values, and we love it," said KiJuan.
Keep asking those questions and grappling with that really important school choice. We're here to support you at MPA.