March 22, 2023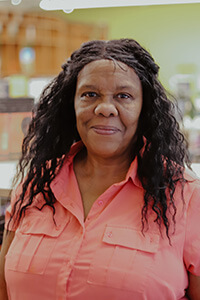 What position will you be holding at MPA?
Extended day and Summer Panther assistant, and night desk attendant.
Tell us about your education and past experience.
I'm working toward my degree in child development. Prior to MPA, I have worked as a childcare assistant, PreK teacher, and as a direct support professional for young adults with autism.
What did you find appealing about MPA?
The people who work at MPA and the students are so amazing! I feel like I have a great family here. I like that it's well-structured and the students are focused, and the parents are there for their kids. Everyone is positive and always polite to me. You all make me feel so welcome, and I thank you so much.
What's your big dream?
To be happily employed! I'm very happy to be here! And to live, love, and laugh comfortably!
What are you passionate about?
My family and I have always been big on love and communication. Since the death of my parents, my siblings and I have continued to keep that going. We also try to empower that in other people's lives.
What's a fun fact about you that our community would love to know?
I'm a caring and loving person and I smile a lot, especially when I'm around beautiful and fun people. And, I absolutely love to fish!!!