March 23, 2023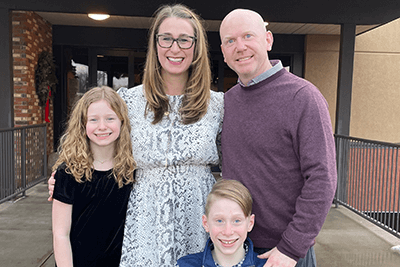 What position will you be holding at MPA?
Assistant Upper School director
From what school/organization are you coming?
The Blake School
Tell us a little bit about your education and past experience.
I earned my B.S. in Producing for Electronic Media from Syracuse University and earned my M.A. in School Counseling from Loyola Marymount University. My teaching and administrative experience includes time at The Crossroads School for Arts & Sciences in Santa Monica, California (2002-11) and The Blake School (2011-22). At Blake, I served as Middle School director for five years. I also served in the interim assistant Upper School director role here at MPA during the 2022-23 school year.
What did you find appealing about MPA during the interview process?
What initially drew me to MPA is the focus on the whole child, its progressive approach to teaching and learning, and the recognition of the importance of social-emotional learning and DEIJ work. After being here for nearly a year, what keeps me at MPA are the people. I have deeply enjoyed my experience working with the talented and dedicated teachers and our curious, creative (and often hilarious!) students. I want to spend more time with them here!! MPA is a "transformative" partner for students and families, and I am excited to continue being a part of that.
What's your big dream?
What a great question! My "big dream" is to love what I do for work, have time and energy to spend with my family, and continue to explore the world.
What are you and your family passionate about?
I am passionate about working in schools with students, teachers, and families and, especially, how to create optimal learning environments for kids. In my free time, I enjoy spending time with my wife and kids (Lucas, 13  and Isla, 10), long-distance running, listening to good podcasts, reading, and visiting the destinations on my travel bucket list.
What's a fun fact about you that our community would love to know?
I am a die-hard Boston sports fan, especially of my beloved Celtics and Red Sox!