October 27, 2023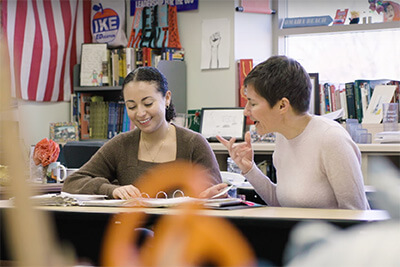 This message is from MPA's Office of Admission from the October 28, 2023 issue of InsideMPA. Click here to get in touch with Admission and learn more!
At MPA, relationships matter, and every child is known. We pride ourselves in being a community that connects with one another. We collaborate with one another, we lift each other up, we provide a support system when needed, and we celebrate each and every one of our accomplishments. As a small-by-design school, every day we witness how relationships have the power to transform lives.
Through our 7:1 student-teacher ratio and dedicated faculty and staff, students receive help when need it, they are fiercely cared for, and they are encouraged to dream big. This is, and always has been, an integral part of who we are as a school.
So when Upper School history teacher Katie Murr and Salmah Elmasry '21 were met with an opportunity of a lifetime–an opportunity that would require close collaboration and partnership between a teacher and student–they did not hesitate to work together and do right by their community.
When teachers see, hear, and believe in their students, remarkable things happen. Hear their story here.