October 3, 2023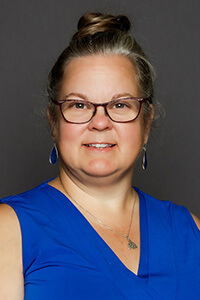 When and how did you first come to MPA?
I learned about MPA from Randy Comfort, former MPA guidance director, who is an extended family member. I first helped out as a proctor for a variety of Upper School tests. He spoke highly of the school and was always trying to bring me into the fold. At the beginning of the 2020-21 school year, my substitute teacher position morphed into a year-long position as the second second grade teacher.
What memories do you have of your first days at MPA?
It was a bit of a whirlwind, but I just dove right in. It was a unique year, due to COVID restrictions and scheduling, and both cohorts shared teaching duties. It was wonderful to get to know the entire second grade that first year
What's the best thing about being a teacher at MPA?
The students and their families. The smaller class sizes allow you to really develop strong relationships. I am also appreciative of the collaborative environment among colleagues.
Describe your typical day.
Our days are busy. We start each day with our morning circle which includes a mindful moment, a greeting, a share, an activity, and announcements. I truly believe this grounds us in community, provides opportunities for each student to be seen and heard, and establishes a cooperative classroom. Math is usually our first core subject of the day, then depending on the day, students are engaged with anywhere from 3-5 specialists, and then return in the afternoon when we focus on literacy and end our day with community as we reflect on our accomplishments, challenges, and share a joke of the day.
Do you have a favorite lesson to teach?
My favorite lessons are what was termed "Brainworks" by my first class at MPA. We learn about the parts of our brain and how they help us learn and make a Play-Doh model. This is our jumping-off point for learning about ourselves as learners and how we learn and promote a growth mindset. I truly believe teaching students about their own metacognition empowers them to be better learners and advocates for themselves.
What do your students teach you?
What I learn from my students could fill volumes. I learn to remember to be in the moment, find joy and wonder in the small things, the importance of being flexible and changing course when needed, patience, and that laughter is the best medicine of all.
How does MPA inspire students who dream big and do right?
MPA inspires students to dream big and do right as we focus on respecting ourselves, others, and our community/world around us. We learn how to appreciate what we have and give ourselves to help others.
If you have worked at another school, how has your experience at MPA been different?
MPA's commitment to teaching the whole child affords students the opportunities to express themselves in different ways and different learning modalities. This allows them to develop and showcase their strengths with a variety of specialists that are not always present in other school settings.
What are you currently reading?
"Making Thinking Visible: How to Promote Engagement, Understanding, and Independence for All Learners" by Ron Ritchhart, Mark Church, and Karin Morrison
What advice do you have for MPA alumni?
One of my favorite quotes is, "Not all who wander are lost." It's okay not to know, and it's never too late to change course. Sometimes, it's the journey that is the most important–not necessarily the final destination.
Complete any or all of these sentences:
One thing I want my students to know: Remember, "Nothing is impossible–the word itself says 'I'm Possible.'" –Audrey Hepburn