February 2, 2023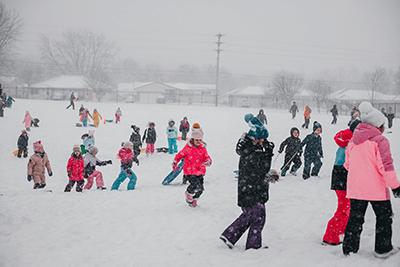 Faculty and Staff Appreciation Week
February 2-9
The second Faculty and Staff Appreciation Week is coming up fast! Look for opportunities to donate snacks and drinks or to volunteer your time during the week of February 2-9 in the Sign Up Genius. Carts will be placed just inside the LS and US entrances for donated items or they can be brought to the Teaching Kitchen. Evening volunteer opportunities during the LS/MS conference dinners are also available. Questions, please contact Tara Lafferty, TMattRN@aol.com
Show You Love, Volunteer for the Lower School Valentine's Day Party
February 14, 8:30 AM-2:30 PM
We're delighted to announce the LS Valentine's Day party is back! This year's festivities will take place in the Lansing Sports Center. Join us for the day or during your student's assigned party time. Sign up to volunteer here.
Middle School Snow Tubing in 2023
Thursday, February 16, 2-4:45 PM
Additional guest registration is due February 13. All Middle School students and their families are invited to this year's snow tubing community event at Badlands Snow Park, 772 Kinney Road Hudson, WI 54016. Outside winter gear is a must (no scarves). Bring a helmet if you'd like and cash for snacks.
Registration
Parents can meet us at the Snow Park for fun and fellowship. We ask that students begin departing at 4:45 PM. If you cannot meet us at the park, your student can return to MPA via bus where you can pick them up at 5 PM. Please indicate your additional ticket needs and transportation plans here.
Additional Guests
All family members are encouraged to attend! The Parents Association is sponsoring the cost of MS students to tube. Adults and sibling guests are welcome to tube from 2-4:45 PM at $15 per guest. Please pay for your additional tubers:
By Venmo to @Christine-Larson-31 (picture is our family dog). Be sure to write your family name and student grade(s) in your submission.
or send cash/check written out to Christine Larson, PA Co-President with your student to the MS office, be sure to write your family name and student grade(s).
Please register your additional guests no later than Monday, February 13.
Food Options
The Badlands Snowpark concessions will be available for students to purchase "concession type" items. In addition, there will be a food truck on site for additional hot food items. Please bring cash for your snacking desires.
Volunteers Needed
We appreciate your interest in helping and need adult volunteers before, during and after our snow tubing date. Click here to see options.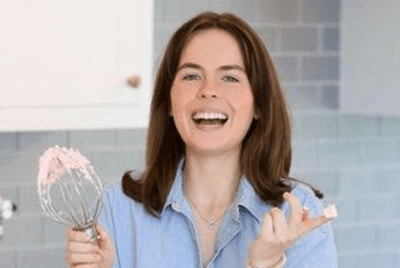 Calling all Cooks!
Thursday, February 23
Interested in learning more about gluten-free Baking? Save the date and please come to our cooking class the evening of February 23 with MPA Alum and Instagram Kate Thrane,
@theglutenlessmaximus. More details coming soon.
Dessert and Dialogue with Mr. Segal
Tuesday, February 28, 6:30-8 PM
Upper School parents, please join us in the Porter Conference Room for Dessert and Dialogue with Mr. Segal. In lieu of a quarterly parent coffee for US parents, Mr. Segal will be hosting an evening where he'll update families on the latest happenings in US, and will open it up for questions and dialogue. Meet other parents, hear school updates and engage in great discussions. RSVP required. Please RSVP to: jbixby@me.com
We're Seeking a Middle School Division Lead
The MPAPA is actively seeking a Middle School Division Lead/Co-Leads to join the it's Board of Directors through June 1, 2023. The MS Division Lead partners with the Board and Dr. Jenn Milam to support the PA's mission as well as carrying out MS traditions through the end of this school year. This parent/guardian will be asked to contribute in the following ways:
Support MS Grade Reps in hosting grade level socials and End-Of-Year Parties (share ideas and coordinate efforts to maximize community building)
Host the traditional MS Tubing Event with MPAPA Community Development Lead, in collaboration with the MS Division Director and form a Subcommittee of parent volunteers
Meet quarterly with the MS Division Director
Be an inclusive resource for MPA families seeking information about PA events and initiatives
Support faculty and staff during Conference Weeks and other special events as requested by the MS Division Director
Meet monthly for a PA Board of Directors meeting
Host monthly summer community gatherings of your choice
Interested in learning more? Please contact Staci Banks or Christine Larson, MPAPA Co-Presidents, at sbankspa@moundsparkacademy.org or clarsonpa@moundsparkacademy.org.
MPA Parents Association Affinity Groups
As part of MPA's commitment to diversity, equity, inclusion, and belonging, the PA in collaboration with the Office of Equity and Belonging, will begin offering Affinity Groups for parents/caregivers of current MPA students. Affinity Groups help foster a sense of belonging by providing a space for parents and caregivers to connect through shared experience and shared identity. They can also offer group members affirmation, support, and a vehicle for advocacy, especially those identities and experiences which are generally under-represented or frequently misrepresented in dominant culture and discourse.
Who Leads Affinity Groups?
Affinity Group discussions are led by parent volunteers who work closely with the PA DEI Committee and MPA staff to manage meeting logistics, support member participation and group cohesion, and provide periodic feedback and/or suggestions during scheduled PA DEI Committee meetings. Parents who are interested in volunteering as a group leader can complete this form.
Who Can Join?
Participation in affinity groups will require that a parent/caregiver self-identify with specific affinities detailed in each group's description. This also holds true for volunteer parent leaders.
When and Where Are Group Meetings?
Initial affinity group meeting dates and times will be scheduled at the discretion of the PA and MPA staff, and based on the availability of space. It is expected that meetings will take place at MPA or virtually when appropriate. Following initial meetings, changes to dates/times and location will be based on group consensus, while ensuring that maximizing participation remains the top priority.
How Are Groups Created?
Affinity groups are established to meet specific needs within the MPA community. At any point, families can request the formation of a new affinity group using this FORM. All submissions for new affinity groups will be reviewed by the PA and Equity and Belonging Office and a follow up meeting will be scheduled with the requestor(s) to learn more about the desired group. It must be determined that there is both enough interest within the community and that someone is willing to lead the group before final approval of a new group. Following approval by the PA, a new group will work with MPA staff to plan logistics for the initial meeting.
Current Groups To Join:
We are actively searching for parents to create additional groups. If you would like to discuss the option and learn more please reach out to Christine Larson, PA Co-President at clarsonpa@moundsparkacademy.org.
If you would like to join either one of the existing groups please reach out to the parent volunteers listed above. Parent Affinity Group Form.