February 27, 2023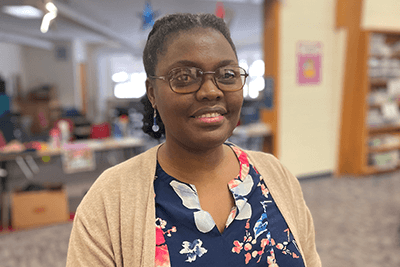 What position will you be holding at MPA?
Extended Day and Summer Program Site Manager
From what school/organization are you coming?
Public schools and a private tutoring center.
Tell us about your education and past experience.
My journey as an educator started back in my home country of Kenya. I volunteered as a Sunday School teacher, nanny, and substitute teacher for two terms at the elementary grade levels. I then received a diploma in Early Childhood and started working as an assistant teacher with various school clubs in international and private schools. I acquired more diplomas in Special Education, Software Applications, and soon after, a Bachelor's in Education and Counseling with Geography and English.
What did you find appealing about MPA?
MPA has an international feel. The students are wonderfully respectful, curious, and love to learn. The staff body is warm, engaging, appreciative, helpful, and present professionalism in their roles towards students and colleagues. I have experienced schools of different backgrounds here in America but MPA's motto, mission, and values make me feel that my skills and experiences are appreciated more.
What's your big dream?
My dream is to continue my studies while positively impacting the world, especially those in underprivileged situations. I have a passion for education accessibility for school-age children and a passion for healthy, accessible nutrition and stable shelter for the at-risk elderly population.
What's a fun fact about you that our community would love to know?
I love elephants! They're my favorite animals. Even though I've seen them face to face, I try not to squeal loudly in excitement whenever I see a sculpture, picture, or video of elephants.