February 28, 2023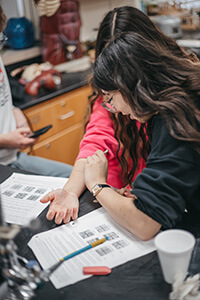 It's always a risk to be the first. Investigating the unknown requires genuine curiosity, determined commitment, and an appetite for asking questions. It commands acknowledging that you are paving the way for whoever takes this journey next. It warrants a sense of courage.
The secondary science curriculum of biology, chemistry, and physics was created to meet the needs of society 200 years ago. But in the last two decades, we've witnessed the needs of society change drastically. To evolve with it, MPA's Upper School science curriculum has undergone a well-planned, research-based reform, and the new science curriculum is a comprehensive program that coordinates math together with science as a coherent whole. In this model, each concept builds a framework upon students' previous learning.
The MPA students partaking say the new science electives have transformed the way they think about, study, and even experience STEM. When enrolling in the new offerings–Advanced Physics: Mechanics; Advanced Physics: Waves, Optics & Electromagnetism; Advanced Topics in Chemistry; Anatomy and Physiology; Astronomy; Biotechnology; Earth, Atmosphere, & Planetary Science; Environmental Chemistry; Environmental Science; and Neuroscience–for the very first time they've been offered as MPA science electives, these students are properly considered risk-takers. Diving into subject matter unlike any other, with the promise of guidance from skillful MPA faculty, they are ready to explore the unknown for the first time in our curriculum's history.
"The investigative approach is really valuable"
From flying pigs to labs that take place in the Lansing Center weight room, senior Kensi Binstadt says, "Advanced Physics labs are like escape rooms or mystery novels–puzzles that must be solved." While she finds them to be initially daunting, she notes that they fuel her fiery motivation to find answers. By critically thinking, she starts from a place of perplexity to calculating the most reasonable next steps.
"The investigative approach is really valuable. We are often given labs where we are asked to answer a question with the limited information, and through the lab we discover a formula. Instead of just being given the formula, this ensures that we actually understand the concepts and the process, or the 'why,' behind the concepts," Kensi said.
Perhaps taking the risk in reforming the science curriculum works so well because MPA thrives in teaching the "why." It comes from a combination of our founding values around education–joyful learning and rigor with purpose. MPA fosters the emphasis on a deep understanding over memorization, diving deep into the content, always attempting to answer the "why." And the benefit pays off in extraordinary ways, even beyond students' time at MPA. Galvanized by the mental toughness and problem-solving skills she developed, Kensi used her experience in Advanced Physics to write her college application essays, and feels prepared for what the next steps in her educational journey will bring.
"I'm able to synthesize things I've learned from a wide range of other classes, and it's made me understand that while I may be confused at the beginning, if I work though problems and ask questions, the topics become clearer," she recalls.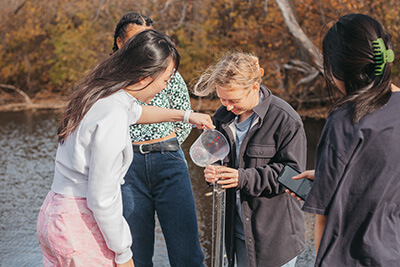 "We're finding tangible solutions"
Senior Zoe Mulvihill finds similar merit in the Environmental Chemistry elective. The synthetization not only occurs in the experiments, but in what students learn and take with them class to class, year over year. What is so important and meaningful about this type of learning is that students figure out how to apply the compounding knowledge they are equipped with to the world around them.
"The material was a combination of review from last year, new material, and learning about the environment and its processes, including the greenhouse effect and climate change," Zoe says. "We're finding tangible solutions to the crisis that scientists are using now or hoping to use soon. Ms. Sullivan did a good job of explaining the severity of the situation, how we got to where we are today, and providing us with hope for a better future."
After having an engaging and enjoyable experience with Honors Chemistry in her junior year, Zoe found herself loving chemistry and compelled to study more of it. Environmental Chemistry was a seamless next step for her, and now she wants to pursue chemistry in college. She feels confident and prepared for what that experience will bring next year.
"Talking to my friends in college who are in an introductory chemistry class, we were working on similar topics, like redox chemistry or chemical bonds. It was also a nice review from last year, so after taking this class, I feel more confident in my ability to succeed in an intro chem class in college," she says.
"We can dive deeper"
MPA students, across all subject areas, are familiar with learning by doing. Our approach is hands-on, and has been part of our foundational pedagogy since 1982. Over the years, we've used a variety of terms, such as "hands-on, learning," "learning by doing," "learning how, not what, to think," and "rigor with purpose." What's key is that project-based learning is grounded in evidence-based research, demonstrated through good practice, and reflective of 21st century skills.
Rachel You, a senior in the Neuroscience class, finds her classwork fascinating and exciting to explore, in part to the experiential way the lessons are taught. She enrolled in Neuroscience initially because it would be her first time taking any sort of anatomy-based course, but found herself pleasantly surprised by how Neuroscience has expanded her overall horizons regarding how the brain and world work.
"We have a lot of hands-on investigations, like dissections, and the curriculum is structured in a way that all the information you learn is used in the next unit," she says. Rachel also mentions that she appreciates the way Upper School science faculty Hannah Sullivan sets up the course for her students, because no matter what the day looks like, she ensures that they are always learning something new.
"Whether it is a lab investigation, a lecture, or a discussion, she will always ask for feedback from the students about the activity. Her class and curriculum are flexible in that we can dive deeper into certain topics or learn new things independent from the set curriculum. I really appreciate how she values our time in class together," Rachel adds.
In the midst of this curricular progression, what hasn't changed throughout the evolution of our science curriculum is our philosophy of engaging students. These new courses continue to ground their content in an inquiry-based approach, guaranteeing that students are working to understand how new content, and risks that come with it, are valuable and can be applied to everyday problems, both large and small. In addition to being the "firsts" and taking the risks, they are still collaborating, applying the scientific method, principles, and research to real-world problems and nurturing essential competencies and skills just as they always have at MPA.