March 23, 2023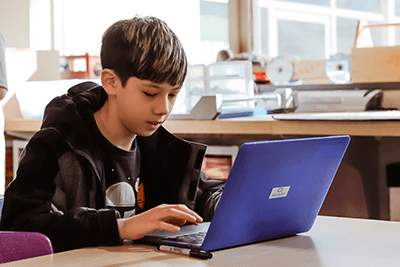 by Dr. Bill Hudson, head of school
The debut last fall of ChatGPT and, more recently, Microsoft's Bing GPT-4 and Google's Bard have been getting a tremendous amount of press lately and have many in the educational field up in arms and very nervous. I'm not one of them. Instead, I believe that artificial intelligence can benefit students and teachers significantly to advance and deepen learning.
ChatGPT is not a technology to be feared, discouraged, or banned but to be embraced and harnessed. Artificial Intelligence can assist students in understanding complex topics better, provide assistance with homework, and sharpen their critical thinking skills. I don't believe that AI will ever replace a teacher, but instead, it will provide them with a powerful toolbox to assist them in very practical ways so that they have more time to spend with their students.
Last fall, I wrote about Climate Alpha, a company using AI to understand how climate change will affect property development. Climate Alpha founder Parag Khanna began by asking, "How are cities adapting and investing in infrastructure to protect against climate impacts? Where are jobs growing? Where are people moving now, despite extreme heat or wildfires or sea level rise?" Climate Alpha is an excellent example of the shift from the Information Age to what author and futurist Daniel Pink calls the Conceptual Age. While the Information Age was all about big data, the Conceptual Age is concerned with using the information in new and novel ways to make the world a better place.
What does this shift mean for our students? What it meant to live, learn, and thrive 25 years ago is much different than what it means today and even more different than what it will mean 25 years from now. As we transition from the Information Age to the Conceptual Age, we now have access to an inconceivable amount of information. But what is important is what do we do with it?
Over the last several years, MPA has looked to our mission statement for guidance to meet the emerging needs of our students concerning technology. Twenty-three years ago, that meant providing each Upper School student with their own laptop. Seven years ago, we were the first in Minnesota to create a PreK-12 Makerspace to provide students with the framework for design thinking and put technology in their hands to problem-solve. We are now creating a framework for digital wellness and beta-testing a digital wellness curriculum in the Middle School to assist students with understanding the moral, ethical, and social uses of technology.
Our approach is grounded in hands-on learning with six areas of focus: proficiency skills, critical thinking skills, research skills, multimedia/communication skills, creativity, and ethical development. Our technology team, under the leadership of Michael Moran, director of academic technology, is expanding with the addition of a new position, curriculum technology integration specialist. We are also making a closer connection with academic technology with our library and media services, building upon the foundation built by retiring librarian Nancy Lage.
I am confident that MPA is well-poised for the future. The first priority of 2024ward, our strategic plan, challenges us to "Empower students to live, learn, and thrive in our increasingly complex and globalized society." We will do this by creating customized pathways of learning for students through curricular innovation and leveraging advances in educational technology. Emerging technologies such as artificial intelligence and computer programs like ChatGPT will undoubtedly positively and negatively impact education.
Mounds Park Academy is committed to staying ahead of these changes and equipping our students with the skills and knowledge they will need to succeed in an increasingly complex and interconnected world. We want our students to be in a position to understand how the technology works—to be creators and inventors rather than simply consumers. With this in mind, we are constantly exploring innovative teaching methods and new technologies that will help us better serve our students.
If you are looking for some insight into engaging your children in the conversation, you may be interested in this article from the New York Times: "The A.I. Chatbots Have Arrived. Time to Talk to Your Kids."