March 23, 2023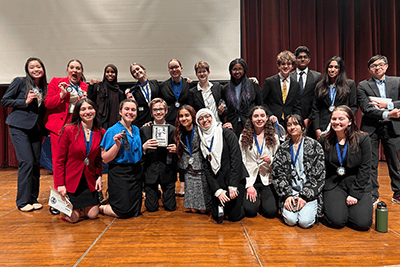 They're champions again! The MPA Speech Team competed at Dassel-Cokato this past weekend, and came out as tournament champions. Five students won individual titles: Zoya Nayak, Zaara Nayak, Ash Klann, Meiran Carlson, and Greta Hanson. The team has had an incredibly successful season so far, which also includes a school record 22 entries qualified for the National Tournament.
Full season results:
Ties of Friendship @ MPA: Second
Westonka: First Small Schools, fifth overall
Pequot Lakes: First
Duluth: First
East Ridge: First Small Schools
Chaska: First Small Schools, fifth overall
Eastview: First Small Schools
St. Anthony Village: First
South St. Paul: Third Small Schools
Dassel-Cokato: First
Let's go, Panthers!