April 21, 2023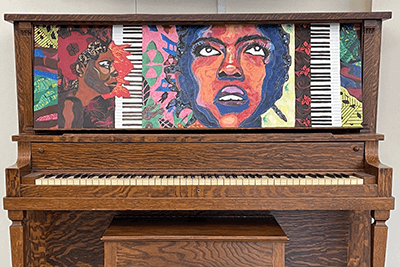 Upper School Applied Painting Class paints a piano together every year, as part of an in-depth collaborative project in conjunction with the local non-profit, Keys 4/4 Kids.
This—MPA's 11th collaborative painted piano—references work by fabric artist Bisa Butler.
Butler is known for quilted portraiture of influential people. The composition on the piano combines multiple of Butler's quilts, showcasing her portraits of Lauryn Hill and Nina Simone. Butler's husband is a DJ who created a playlist of songs that correspond with her quilts. We enjoyed listening to his playlist in class, along with Lauryn Hill and Nina Simone, too.
During the process, students learned a lineage of artists who work(ed) with fiber or on fiber, including Faith Ringgold, Sam Gilliam, Anne Labovitz, Diane Itter, Kehinde Wiley, William Morris, and Miriam Shapiro. While working collaboratively in shifts on the piano, students also designed their own original paintings that are inspired by fabric, incorporate fabric, or are painted on fabric.
The painted piano, along with the related individual paintings done by the same students, will soon be on display in the main hallway outside of the band room. The piano will eventually be placed somewhere in the metro area for the public to enjoy, as part of the Keys 4/4 Kids Pianos on Parade program.