April 21, 2023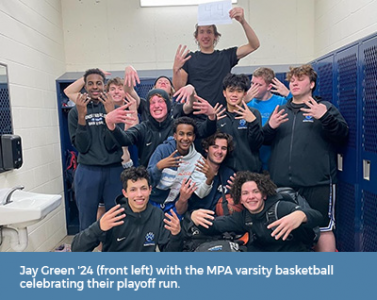 "Leadership is being in the middle of the herd, moving it roughly westward."
This is one of Head of School Dr. Hudson's favorite metaphors that he learned from a mentor years ago. Dr. Hudson meets with the current senior class throughout the school year to walk them through various leadership theories and ideologies as they prepare for their journey after MPA. He shares this one with them, asking them to think about how it applies to leadership in their own hands. When they unpack it together, common themes arise:
If a leader is at the tail end, the herd lacks direction. On the other hand, sometimes a leader needs to step back in order to consider crafting a broader vision.
Those who lead from the middle are often better in touch with other members of the herd and can nudge them forward in a common direction. They help others feel valued as a part of the solution as the team moves ahead.
Sometimes a leader needs to be bold and chart a new path.
We teach our students that leadership requires adaptability, responsiveness, and resilience. When we look at the freethinkers among our student community, student leaders do not come one-size-fits-all. They are leaders of clubs, team captains, and thought leaders. In Lower School, fourth graders are the conflict managers to help resolve conflicts on the playground. In Middle School, eighth graders set an example for all other grades, and are the peers who make themselves available and approachable for help. In Upper School, Peer Leaders take on being role models for the school, teaching others what leadership is to them. At every stage of their education, empowering students to live, learn, and thrive means guiding them and infusing their education with leadership skills–many of which are learned through experience.
Sometimes a leader needs to step back in order to consider crafting a broader vision.
To Jay Green '24, a varsity basketball team captain, a track and field team captain, and a Peer Leader, leadership means adapting to those around him and effectively bringing the best out of others. Because he recognizes that everyone responds differently to different methods, he strives to understand everyone's communication preferences and needs.
"MPA does an amazing job of developing leaders from a very young age," he recalls, having been at MPA since Lower School. "In Middle School, teachers stressed how we had to be leaders within our community. Teachers like Ms. Atchison, Ms. Nagle, Ms. Dale, and Ms. Meras will always be people that I think of when I hear the word 'leadership' because they challenged me to lead within the classroom and the Middle School every day."
As it turns out, Ms. Atchison, Middle School English teacher and a founding faculty member of MPA, went out of her way to talk to Jay about being a leader within sports; and, at a young age, she left the impression on him that he was capable of changing the perception around MPA athletics. This challenge was something that he kept with him until becoming captain of the varsity basketball team. Many of his teammates know that as a team leader, his slogan was "change the culture."
Jay figured out that once he could effectively lead a group, the bond created is, in a single word, "unmatched." "My favorite part about being a captain on this team this year was not the playoff run, the regular season wins, or the game-winner to start the year," he says. "It was watching the other people step up and become leaders of their own, and when you have a group full of leaders all trying to accomplish one goal, nothing can get in the way of what you are trying to accomplish."
Jay, and many other Upper School students, are also involved with Peer Leaders at MPA. Peer Leading is based on the belief that teens provide the first source of support for each other. MPA's Peer Leaders are a group of Upper School students who apply to be part of the program, are vetted through an interview, and show a genuine commitment to student leadership and the responsibility of being a leader among their peers. They are thoughtfully trained to listen, maintain confidentiality, and be there for others when needed. Peer Leaders are also coached on how to access other resources when necessary. They work with students in grades K-12, facilitating Middle School advisory meetings, participating in class meetings and discussions, acting as schoolwide conflict managers, and planning programs intended to enhance school climate. Some activities even include mentoring new students and their parents.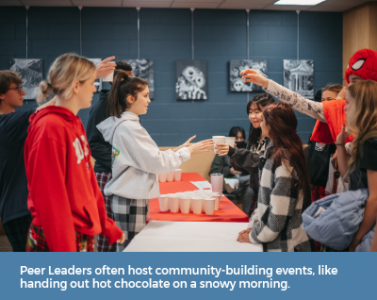 Those who lead from the middle are often better in touch with other members of the herd and can nudge them forward in a common direction.
Peer Leaders quite literally lead from the middle by spending time mentoring students in Middle School. "My favorite part of being a Peer Leader is interacting with Middle Schoolers and teaching them about topics they are interested in while weaving in examples of leadership," says Trevor Lien '24, cross country team captain and Peer Leader. "The most rewarding thing about being a Peer Leader is to see the bonds and connections grow within the groups you are leading, and seeing the Middle Schoolers become more independent." To Trever, student leadership means demonstrating the values of MPA and guiding others to follow those values–and the Peer Leaders work together to do just that. "We cannot put all of the weight of character lessons on teachers. Students provide closer examples to others on the right way to behave in school and have more interaction with other students," he adds. MPA teachers set the groundwork early, but it is the community and environment that cultivate student leaders by providing a space where to grow and express ideas without fear or judgment.
Sometimes a leader needs to be bold and chart a new path.
Freethinking student leaders lead by example and by taking initiative. Instead of waiting for opportunities, they create their own. Instead of conforming to the spaces that already exist, they establish new ones. They work hard for the causes that leave a lasting impact. They detect what's missing and fill the gap. "Even when I have a far-out idea, there's a teacher who will support me. As a student at MPA, I've felt the motivation from teachers to create new activities based on interest from myself and others," says MPA senior Cassie Atkinson.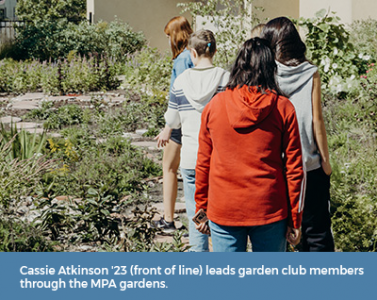 Cassie Atkinson '23, a Peer Leader and MPA garden club founder and leader, has not shied away from creating space since she joined Upper School in tenth grade. To her, leadership means bolstering the community in favor of people's goals and ambitions. After realizing MPA's need for a dedicated outdoor garden space and volunteers to maintain it, Cassie founded the Upper School garden club to ensure the legacy of the MPA gardens will continue to thrive after she graduates this spring. "Having student leadership is a direct representation of the student body. To better support the student academics, athletics, arts, and more, student leaders can work directly among their classmates to represent their peers," Cassie believes. And she is right–her ambition and strong leadership sets an example for others. Even though she leads the club, her favorite thing is hearing new ideas from its members. She stays inspired and engaged by what others bring to the table. "The uniqueness and individuality of MPA students drives me to lead activities where they can continue to be themselves and pursue their ambitions," she says.
Through student leadership, we see our graduates leave MPA with increased communication skills, personal growth, a strong sense of community, and deep understanding and empathy for others. "I can't stress enough how much MPA's faculty and staff does an amazing job developing leaders and leadership," Jay remarks. "Without student leadership, MPA would not be MPA."